Tim Tebow Released by Patriots, But Testifies Faith Provides Him 'Peace in Whatever Circumstance'
The New England Patriots have released quarterback Tim Tebow, according to an ESPN report, however, Tebow assured earlier this week that because of his faith he didn't "have to worry about the future."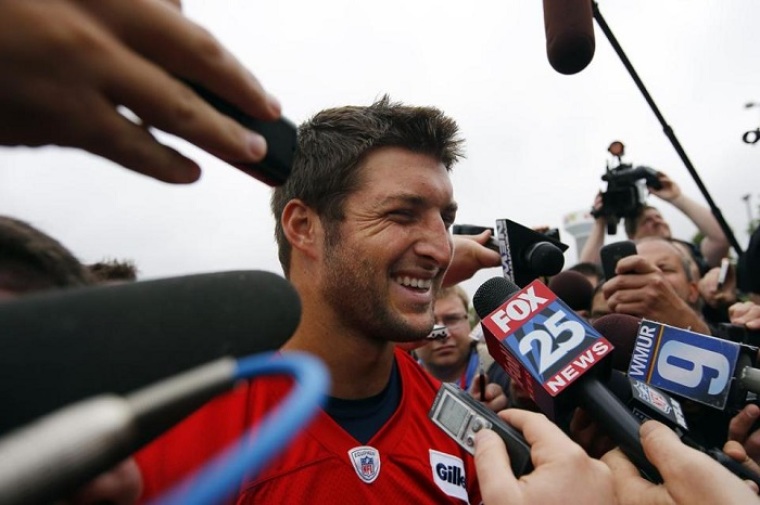 With quarterback Ryan Mallett's position as backup to franchise player Tom Brady already secure, Tebow's position on the team had been tentative throughout the preseason.
In the Patriots' final preseason game against the New York Giants on Thursday night, Tebow threw two touchdown passes and one interception.
After the game, Tebow told reporters his faith helped the anxiety he may have otherwise felt about his football future.
"I'm blessed, because of my faith, that I don't have to worry about the future because I know who holds my future," Tebow told reporters. "It's something I try to live by. It really gives you a lot of peace in whatever circumstance I'm in."
That same day he tweeted a picture of the text of Psalm 62:5-7 that reads, "Yes, my soul, find rest in God; my hope comes from him. Truly he is my rock and my salvation; he is my fortress, I will not be shaken. My salvation and my honor depend on God. he is my mighty rock, my refuge."
Although Tebow's late-season contributions helped the Denver Broncos reach the playoffs in 2011, he was unable to find consistent playing time with the New York Jets last year and was ultimately released by them before joining with the Patriots in June.
Despite the presence of Patriots' offensive coordinator, Josh McDaniels, who coached Tebow during his tenure on the Broncos, the quarterback found it difficult to make a breakthrough during the preseason. In three appearances, Tebow only completed 11-of-30 passes, picking up just 145 yards, with a pair of touchdowns and two picks.