Tim Tebow Reacts to Russell Wilson's Public Vows of Celibacy With Singer-Girlfriend Ciara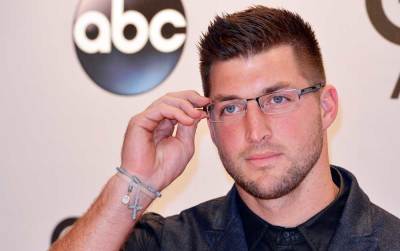 Years after Tim Tebow professed that he was a virgin, the Christian football star and television personality is being questioned about his thoughts concerning Seattle Seahawks quarterback Russell Wilson's public vow of celibacy with his singer girlfriend Ciara Harris.
Tebow was stopped by a TMZ reporter at an airport recently, where he was questioned about advice he would give to the high-profile entertainers who are working to remain celibate.
"You're an advocate for saving yourself until marriage. I wanted to know if you have any advice for Russell Wilson?" a reporter asked Tebow in a video posted to TMZ on Monday. "You know he's dating Ciara, and he's getting a lot of criticism saying that it's hurting his career. But you know, they're saving themselves and they're not doing it to help their performance. Any advice for how they can push through all of the criticism, the haters and stuff?"
The 28-year-old SEC analyst said, "I just wish both of them and everybody all the luck, and God bless man."
Tebow first said publicly that he was a virgin during a 2009 SEC Media Day press conference, when a reporter asked the then 21-year-old college football player if he was saving himself for marriage.
"Yes, I am," Tebow answered. "I think you're stunned right now. You can't even ask a question. … I was ready for that question, but I don't think y'all were."
Wilson chose a different platform to reveal his vow of celibacy. He first made the announcement when he appeared at The Rock Church in San Diego, California, on July 5 and told Pastor Miles McPherson that God told him to lead Ciara in a vow of celibacy.
In the Q&A session with McPherson at The Rock Church, Wilson described how he presented the idea to his girlfriend.
"I asked her, 'What would you do if we took all that other stuff off the table and did it Jesus' way, no sex?' I knew God had brought me into her life to bless her and for her to bless me, and to bless so many people with the impact that she has and I have," Wilson told McPherson. "We're not going to be perfect, by any means. But He's anointed both of us and He's calling for us to do something special."
While Wilson's announcement was mocked by some and met with criticism and questions from others, his 29-year-old singer girlfriend fully supported his decision to speak so candidly about their personal life.
"It was an organic thing for him and I think he was just being honest about where we are," Ciara told "Access Hollywood Live" back in July.
During an interview with E! News, she shared how the decision to abstain from sex is helping other young couples.
"I run into different people and they'll talk to me about their journey and their relationships, so I think that's been really cool and it's a healthy thing. It's a healthy conversation we all get to have as adults. I'm not sweating it at all."