Tomi Lahren Suspended by The Blaze Following Pro-Choice Comments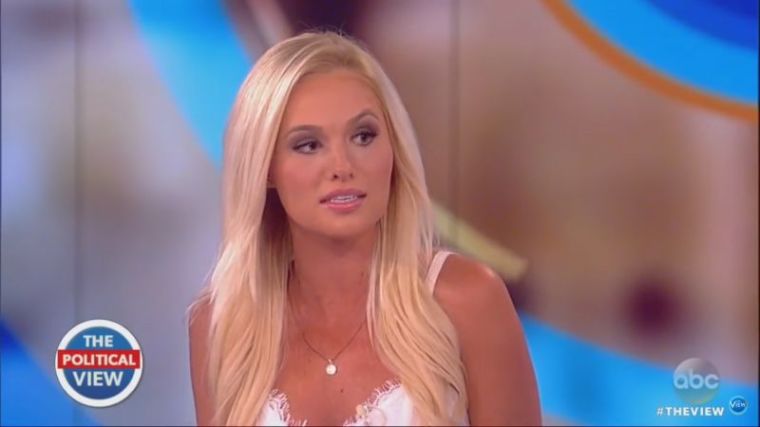 Rising conservative star Tomi Lahren has officially been suspended by The Blaze for one week following the controversy that stirred around her expressing a pro-choice position in an interview with "The View," reports have said.
BBC News noted that Lahren has faced "huge online backlash," including criticism from Glenn Beck, founder of The Blaze, for arguing that it is hypocritical to be both pro-life and for limited government.
Lahren's "Tomi" nightly talk show, one of the main vehicles behind her rise in fame over the past year, has been pulled off air by The Blaze for the week, The Independent added, with her future with the company up in the air.
Lahren, 24, who is a big supporter of U.S. President Donald Trump, said in an interview with "The View" on Friday:
"I'm someone that is for limited government, so I can't sit here and be a hypocrite and say I'm for limited government, but I think that the government should decide what women do with their bodies."
She added: "Stay out of my guns, and you can stay out of my body as well."
She later clarified on Twitter that she does not advocate for abortion, but maintained her pro-choice stance despite criticism.
Beck, who is a Mormon, offered his views in an article on Monday, explaining that he very much believes that one can be both pro-life and for limited government.
"The founders were really, really clear. The preamble of the constitution clearly states to secure the blessings of liberty to ourselves and our posterity. Well, who are our posterity, if not our unborn children and grandchildren and great grandchildren," he wrote.
"Our descendants and future generation, that's who the constitution is securing the blessings of liberty for. Not just us."
Nicole Russell echoed those views when writing for The Federalist, when she said that limited government is not the same as no government and anarchy, where there are no laws.
Russell argued that legalized abortion "enables the powerful (grownups) to prey on the weak (unborn babies those grownups created, in almost all cases in a consensual act)."
"This kind of predatory tyranny is exactly what a constitutionally limited government that guarantees equal fundamental human rights to all is supposed to prevent," she added.
Lahren responded to the suspension in a series of Tweets, some jokingly: "So I've got some 'me' time tonight. Anything good on TV?"
In another Tweet she wrote: "This life can be lonely. Thank you to those-on all sides of the political spectrum-for the support. Agree/disagree, it means the world."
The BBC noted that despite Lahren's success — she has 4.3 million followers on her Facebook page alone — there are rumors that she might be cut from The Blaze altogether, as there are "rising tensions" between herself and other hosts.