Tony Dungy Defends Talking About Nick Foles' Christian Faith Amid Pushback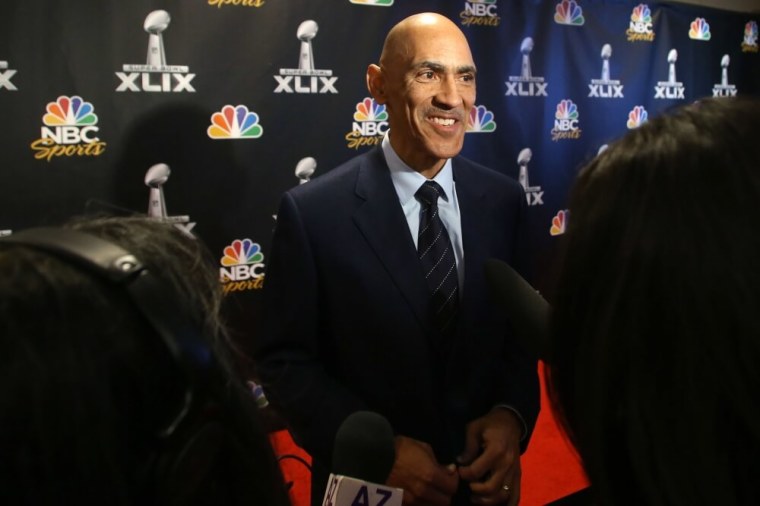 Tony Dungy is defending his decision to publicly speak about the Christian faith of Super Bowl LII MVP Nick Foles after the quarterback and his Philadelphia Eagles won the big game Sunday.
Dungy, a Hall-of-Fame NFL coach turned commentator on NBC's "Football Night in America," received some criticism online after tweeting about Foles' faith.
After the Super Bowl, Dungy had tweeted about Foles sharing "that he felt the Lord had him in Philadelphia for a special moment and he played like it tonight."
However, some criticized those comments, including one person named Eric Adler who accused Dungy of spouting nonsense.
"@TonyDungy unbelievable you would use your employer, @NBCSports, to spout this nonsense on the air," Adler said to Dungy.
The former NFL coach did not back down from sharing his faith and tweeted a reply.
"NBC pays me to express my opinion. And it was my opinion that Nick Foles would play well because his Christian faith would allow him to to play with confidence," Dungy wrote. "And that he's a good QB. I think I was right on both counts."
Dungy also had a public conversation about the matter with Houston Chronicle reporter Stephanie Stradley who tweeted, "I'm just not wanting it as a part of football analysis. Humans are not the Holy Spirit."
While her tweet has since been taken down, Dungy asked the reporter why she found it so hard to believe that the Holy Spirit spoke to Foles.
"Why would you find it hard to believe that the Holy Spirit could speak to Nick Foles just as much as a coach could speak to him," Dungy questioned Stradley on Twitter. "If he credited a coach for saying 'Stay calm and be confident,' that's good. But if he tells me Christ says that to him I shouldn't report it?"
The self-proclaimed Christian reporter said she did not find it so hard to believe but regretted commenting on the matter because she didn't want to become a "Christian attacked by other Christians" on Twitter.
Dungy managed to de-escalate the matter by assuring the reporter that he was just grateful that the Philadelphia Eagles team has been vocal about their faith.
"We don't want to attack you at all. I am just thankful for the boldness of Coach Pederson and those Eagles players to express their faith," he wrote. "I was proud to be able to use my job—where God placed me—to help their voice be heard."
Famed evangelist Franklin Graham backed Dungy amid criticism and took to his own Twitter account to speak about the matter.
"In our secular world today, many people seem to think Christians are the only ones who shouldn't be allowed to speak our opinion if it includes our faith or the Name of Jesus Christ," Graham tweeted Wednesday. "I'm thankful for those who are bold enough to do it anyway!"