Tony Stewart Flips Car 5 Times, Walks Away Uninjured (VIDEO)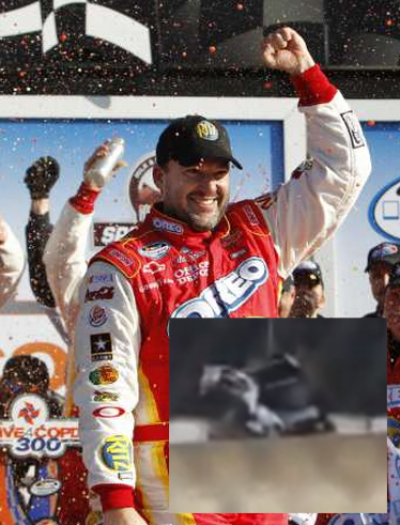 Three-time NASCAR champion Tony Stewart walked away from his wrecked car on Monday night after flipping the vehicle five times.
Racing his sprint car against Shane Stewart at the Ohsweken Speedway dirt track in Ontario, Canada, the racer was attempting to get into the lead when his car flipped. The car flew "end-over-end" according to USA Today, completing a five-time flip before landing. But Stewart walked away uninjured.
"Tony Stewart is fine," Stewart-Haas Racing spokesman Mike Arning told USA Todayin an email. "He walked away from [Monday] night's accident unhurt and will race tonight in the World of Outlaws STP Sprint Car Series feature event at Ohsweken Speedway in Ontario, Canada. (He is the defending race winner)."
This is the racer's third crash this week. Stewart said in a previous interview that he had plans for a busy week with races every night but Wednesday.
"A lot of those days are doubled-up days," Stewart said. "We have a busy week. Can't think of a better week to celebrate."
Stewart is a three-time NASCAR Cup champion. In addition to racing, he has competed in over 520 races over a 15-year career and he also owns his own team. Stewart often goes by the nickname of "Smoke," which offers a flashback into the racer's history when he wasn't always on the top of his game.
"I wasn't very good about not slipping the right-rear tire, initially. So it started as 'Smoker,' then it got shortened to 'Smoke.' Then when I got in the Indy Racing League it was 'Smoke' because one of the guys on the crew who was my roommate, and knew the nickname, carried it over to the IndyCar team. But then when I started blowing engines, 'Smoke' really stuck. I've had it ever since," he said in a previous interview with NASCAR.