Toronto Mayor Rob Ford Drops Out of Election; Says God 'Wants Me Somewhere Else'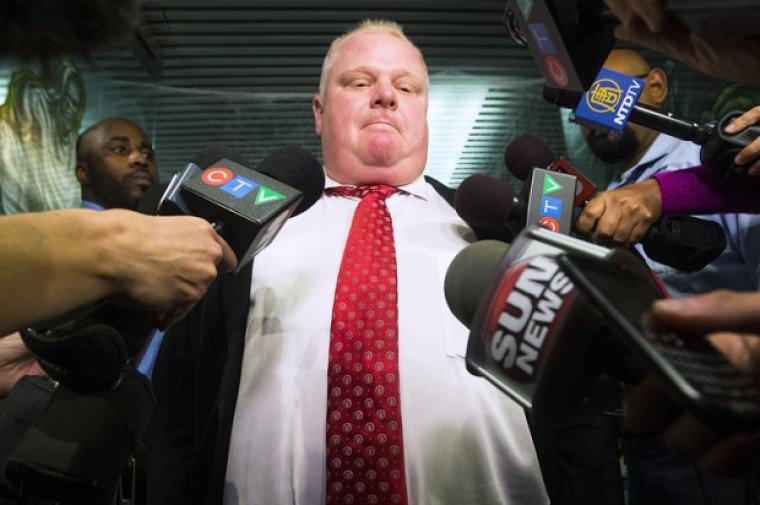 Toronto Mayor Rob Ford has dropped out of the mayoral race, handing the reigns over to his brother, and said that God wants him somewhere else and has other plans for his life.
"I guess the good Lord wants me somewhere else," Rob said after being diagnosed with a tumor in his abdomen. "It's not good."
He has been hospitalized while tests on the tumor are being conducted, and his brother, Doug, decided to step in and run for the office in his brother's place. Rob said he told Doug he did not have to do so but "absolutely" supports his decision and will do what he can to help Doug win the election held on Oct. 27.
"I fight every day," Rob said. "I never quit. I still want to help people, and I love the city," he told the Toronto Sun. "I am going to fight this. I promise you that."
In his official statement announcing his withdrawal, Rob spoke directly to his constituents and those who are facing "a serious health challenge."
"I wish you strength and courage on your journey, you are not alone. Hope is a powerful thing. With hope, support and determination I know I will beat this, not just for my family, but for YOU, Toronto. My family and I thank you for your continued support and prayers. God bless," Rob said.
Despite his health setbacks, Rob will actually run for office again, only this time as a candidate for city council. His nephew Mike, who was initially running for the seat, has withdrawn in order to allow his uncle to take his place. Mike will run for school trustee.
Rob's political career has had its ups and downs, with a video of him using drugs surfacing and his being accused of making lewd and racial comments. He returned to the office in June, two months after undergoing "intensive" therapy.