Traditional Marriage Group Accuses Notre Dame of Censorship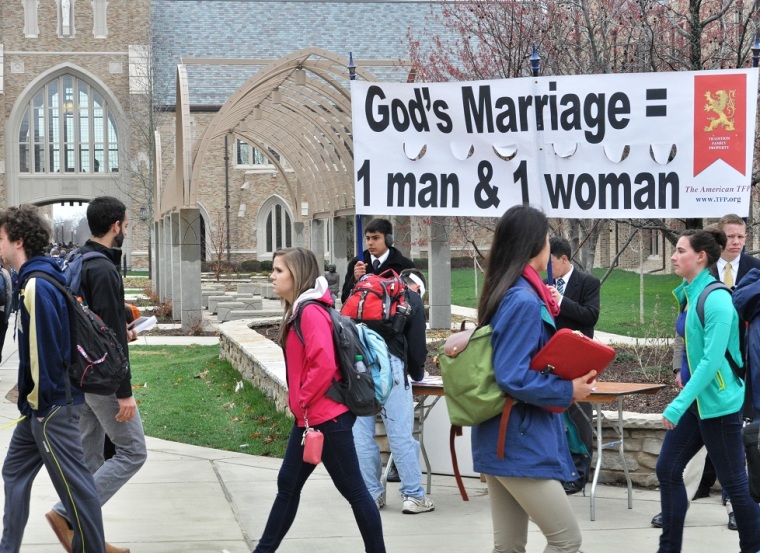 A conservative Roman Catholic group has accused the University of Notre Dame of repression after police reportedly shut down a pro-traditional marriage table they held on campus.
TFP Student Action twice had their display on the Catholic academic institute's campus removed at the behest of police last week.
John Ritchie, spokesman for TFP Student Action, told The Christian Post the display was part of "a seven-day tour for marriage in three states: Indiana, Ohio and Pennsylvania."
"Working with the Orestes Brownson Council, a Catholic student club on campus, a table was reserved outside DeBartolo Hall on April 24," said Ritchie.
"That morning, while the pro-marriage table was being very well received by the majority of Notre Dame students, two police officers suddenly arrived and told us we had to pack up and leave. They stated that our permission to be on campus was not official enough."
According to Ritchie, Notre Dame's Student Activities Office said it was a "misunderstanding" and gave them the go-ahead to have the display put up again the following day.
"This time, a round of emails had been sent around, advising Notre Dame police officials that we would be returning in the morning. Everything seemed OK. I even called the campus police department before setting up and was assured that it would be 'absolutely' fine," said Ritchie.
"But apparently it wasn't fine. Because the table was shut down again. This time, the police said the table had approval, but not the people with the table."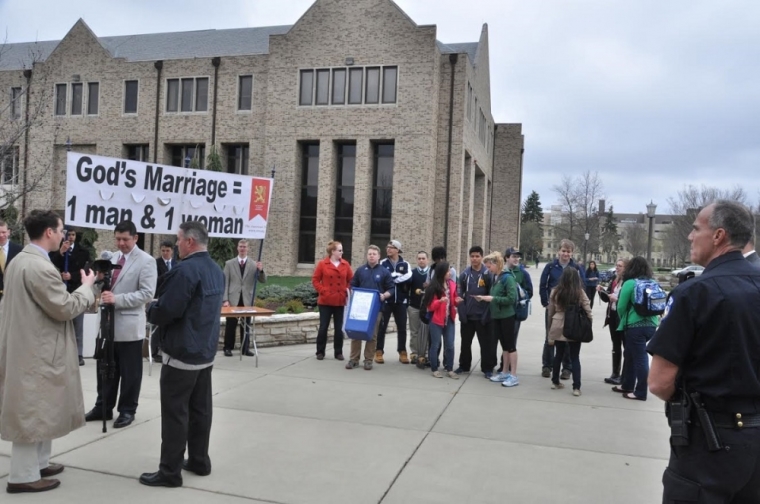 When asked by CP if he planned to protest this treatment before Notre Dame officials, Ritchie of TFP responded that it would be "pointless to complain."
"Political correctness seems to trump the truth at most universities today, sadly even at Notre Dame," said Ritchie.
Dennis Brown, spokesman for Notre Dame, told CP that the issue regarding the TFP Student Action display had nothing to do with their ideological bent, but rather the fact that they are not a recognized campus student organization.
"Our request to have TPF leave had nothing to do with the topic and everything to do with simply adhering to our policies," said Brown.
"We've done exactly the same thing, including arrests, with outside groups that have attempted to come on campus to make statements that run the gamut of the ideological and political spectrum. We welcome the free expression of ideas on our campus, but it needs to be done in accord with our policies."
Brown explained that the student group Orestes Brownson Council is recognized and had gotten permission to have a pro-traditional marriage display.
"Our policies explicitly state that only members of the university community may organize or lead such events on campus," said Brown.
"When university officials learned that, contrary to our policies, the student group made this request on behalf of an outside organization, TFP Student Action, we asked that its members leave."
Brown added that "TFP Student Action also was in violation of the University's video and photography policy."
"It failed to get permission to shoot on campus, and it recorded videos and took photos of people without their permission," said Brown.