'Transformers 5' to have dual storylines, Optimus Prime and Unicron will battle it out in space?
Rumors suggest that "Transformers 5," which is scheduled to come out in theaters sometime in 2017, has two storylines. It will also feature the epic battle between Optimus Prime and Unicron in space.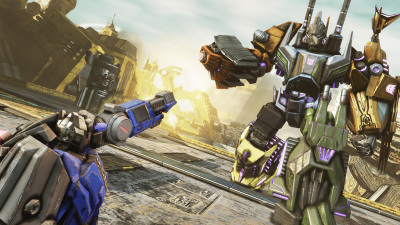 The highly anticipated sequel to the "Transformers: Age of Extinction" that was released in June 27, 2014 is reported to have locked its story. "Transformers 5" is rumored to have two storylines. The first story will be set on Earth and will follow the events in the life of Cade Yeager, played by Mark Wahlberg. Apparently, Cade will team up with Autobots and Dinobots to save planet Earth from a threat.
The second story will focus on Optimus Prime. He will be searching for his ancestors in space – the ones who created him, the Quintessons.
The other big rumor is, of course, with "Transformers 5" going into space, the main villain is expected to be Unicron. But this could be an issue as Unicron is a giant transformer planet and the sheer scale could be a problem to create.
Ehren Kruger, writer of the "Transformers" movies has been pushing for Unicron to be included in the fifth installment. The problem was that Unicron is too big and a right story is needed. According to The Huffington Post, he said, "The only thing I do keep talking about that seems too big until we find the right stories for it -- or the way to make it make sense -- is the Unicron character from the mythology, who is a planet-size Transformer. It's not that it's too big, just that it'll be onscreen whenever we figure out how to make it visually interesting and amazing."
If the Unicron entry is true, then the battle between Optimus Prime and Unicron will set the stage for moving the 'Transformers' franchise into space, doing away with the human storyline altogether and focusing more on the future battle between battle between the Autobots and the Decepticons.
As of now, only Mark Wahlberg has been confirmed to reprise his role as Cade Yeager in "Transformers 5." Megan Fox and Shia LaBeouf's roles are joined together. Both have to be there in the film. But LaBeouf recently told Franchise Herald, "I highly doubt I'll be back for another one. I'll do another Michael Bay film but not Transformers."
Fans will have to wait it out for news about casting. "Transformers 5" is scheduled for a 2017 release.