Transgender Students Claim Trump's Termination of Obama Bathroom Mandate Is 'Cruel' in DeVos Meeting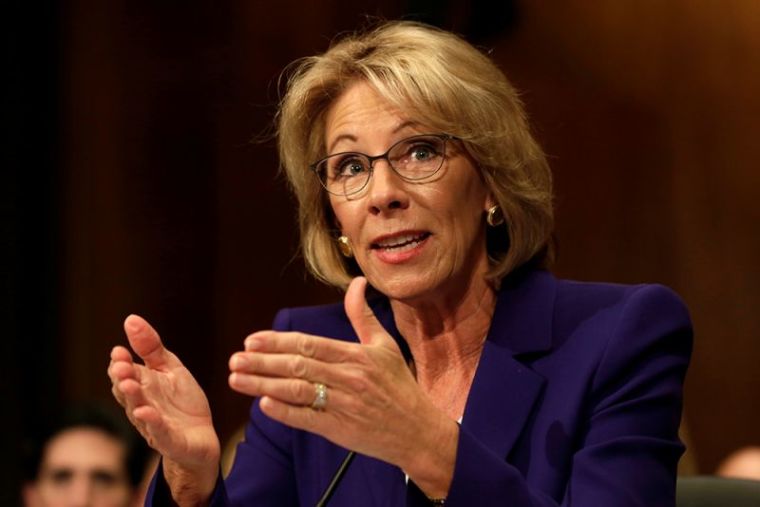 U.S. Secretary of Education Betsy DeVos met with transgender students and their parents Wednesday to hear concerns they have about a guidance issued by the Trump administration that effectively nullified Obama's mandate that schools must allow students to use any bathroom they choose, even those designated for the opposite sex.
According to The Washington Post, a group of parents, students and LGBT activists met with DeVos in an Education Department conference room in hopes of persuading her to side with the transgender movement's agenda.
The meeting came after the Departments of Education and Justice issued a guidance letter two weeks ago informing schools that they had withdrawn a previous guidance issued by the Obama administration that instructed schools to allow transgender students to use bathrooms, locker rooms and showers based on the gender they choose to identify as on any given day, instead of their birth sex.
"It was very painful to have to do. Both my husband and I fought through tears trying to tell her how difficult the past two weeks have been," Vanessa Ford, the mother of a 5-year-old transgender child, told The Washington Post. "These are our families. These are our friends. And we are angry."
It was initially reported that DeVos opposed the effort from Attorney Gen. Jeff Sessions and Trump to overturn the controversial Obama bathroom order issued last May. According to The New York Times, Trump told DeVos to let up in her opposition to the guidance in a meeting at the Oval Office. However, the White House claimed that there was "no daylight" between Trump and his cabinet members on the issue.
After the guidance was issued, DeVos spoke at the Conservative Political Action Conference outside of Washington, D.C. the next day and pushed back on claims that she initially opposed the Feb. 22 guidance and said she supported rescinding the Obama guidance because she thinks it was "a very huge example of the Obama administration's overreach."
Along with 5-year-old Ellie Ford, DeVos also met with Grace Dolan-Sandrino, a 16-year-old high school student from Washington, D.C. who had previously met with Obama's Sec. of Education Arne Duncan when the education department was working to create last year's joint transgender bathroom guidance.
Dolan-Sandrino recounted experiences of not being allowed to use the preferred bathroom in middle school and allegedly told DeVos that the move to rescind the transgender bathroom guidance was "cruel" and also used other choice words.
"I told her in order to feel good about the meeting that I needed to leave her with a charge," Dolan-Sandrino told The Washington Post. "She has the lives and the futures of thousands of students across the country in both public and public charter schools in her hands. It is up to her to provide protections for transgender students, and it is up to her to combat the ignorant, harmful, bigoted actions of the Trump administration."
Another parent at the meeting told the secretary that she had lost her transgender child due to suicide two years ago at the age of 14. Opponents on the Left have maintained the argument that denying transgender students access to the bathrooms and locker rooms they prefer to use is linked to higher risk of suicide.
"I was wishing I could have been there with my son," Katharine Prescott, mother of the late Kyler Prescott, told the Post. "These families were coming in to stand up with their kids. I couldn't do that because Kyler isn't here anymore."
The Associated Press reports that parents felt that DeVos was moved by their stories and experiences but "left with little hope that she would be a strong advocate for transgender children."
Following the meeting, DeVos issued a statement.
"I am grateful to have had the time to speak directly with the families, students and community leaders about their concerns, thoughts, fears and suggestions. Every school and every school leader has a moral responsibility to protect all students and ensure every child is respected and can learn in an accepting environment. I remain committed to advocating for and fighting on behalf of all students. Today's meeting was compelling, moving and welcomed, and part of an ongoing dialogue with families and students throughout the country."
According to The New York Times, DeVos was a big part of the move to include language in the Feb.22 guidance that calls on schools to protect transgender students from bullying.