Trump 2005 Sex Talk Video Scandal: Evangelical, Republican Leaders Divided on Supporting GOP Presidential Nominee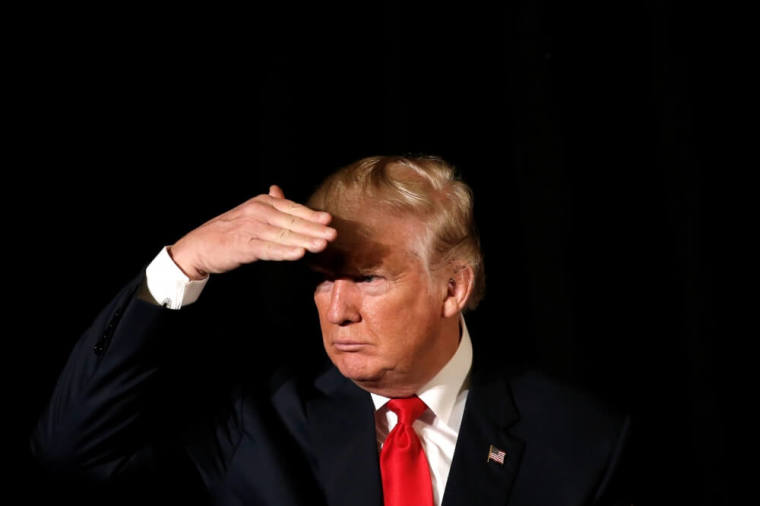 Varied responses from evangelical and Republican leaders are pouring in after a 2005 video surfaced showing Donald Trump bragging about kissing, groping and trying to have sex with women. Some have withdrawn their support, others continue to back the GOP presidential nominee to prevent Hillary Clinton from becoming president.
"As a husband and father of three daughters, I find this behavior deeply offensive and degrading," said Tony Perkins, president of Family Research Council Action, referring to the leaked video carrying Trump's 2005 remarks while talking with Billy Bush, then host of "Access Hollywood."
In the conversation with Bush, the real estate magnate discusses a failed attempt to seduce a woman. "I did try and [expletive] her. She was married," Trump says. "You know I'm automatically attracted to beautiful — I just start kissing them. It's like a magnet. Just kiss. I don't even wait," he adds. "And when you're a star, they let you do it. You can do anything." The video was published by The Washington Post on Friday.
Trump, who will participate in the second presidential debate with his Democratic rival Clinton at Washington University in St. Louis on Sunday, has said, "I was wrong, and I apologize."
Perkins went on to say his support for Trump "was never based upon shared values rather it was built upon shared concerns," including the Supreme Court, America's security, and religious freedom. He said, "… We are left with a choice of voting for the one who will do the least damage to our freedoms."
It's not an ideal situation, Perkins added, but "I refuse to find sanctuary on the sidelines and allow the country and culture to deteriorate even further by continuing the policies of the last eight years."
Ralph Reed, chairman of the Faith and Freedom Coalition and a member of Trump's religious advisory board, also said he's still with the Republican nominee.
"As a Christian, I believe that the Bible teaches, to quote a verse from the New Testament, that we're to treat older women as our mothers and younger women as sisters in all purity," Reed told NPR in an interview on Saturday, adding that Trump has apologized. "I think given the stakes in this election and those and other critical issues, I just don't think an audiotape of an 11-year-old private conversation with an entertainment talk show host on a tour bus, for which the candidate has apologized profusely, is likely to rank high on the hierarchy of concerns of those faith-based voters."
Former presidential candidate Gary Bauer also said he continues to support the Trump-Pence ticket.
"The 10-year old tape of a private conversation in which Donald Trump uses grossly inappropriate language does not change the reality of the choice facing this country," the chairman of the Campaign for Working Families said in a statement. "Hillary Clinton is committed to enacting policies that will erode religious liberty, promote abortion, make our country less safe, and leave our borders unprotected. She wants higher taxes and bigger government. She will continue the disastrous economic policies that are destroying America's working class and middle class families. She is mired in corruption and has put U.S. secrets at risk."
Trump's running mate, Gov. Mike Pence, responded to the video, saying, "As a husband and father, I was offended by the words and actions described by Donald Trump. … I do not condone his remarks and cannot defend them. I am grateful that he has expressed remorse and apologized to the American people."
Pence abstained from a campaign event scheduled for Saturday in Wisconsin with House Speaker Paul Ryan, Politico reported.
The Washington Post's National Political Reporter, Philip Rucker, said Gov. Pence is "inconsolable" since the leaked video surfaced. "A source close to Trump camp told me Pence and his team are 'absolutely apoplectic,' 'melting down' and 'inconsolable,'" Rucker tweeted.
Republican National Committee Chairman Reince Priebus condemned Trump's remarks. "No woman should ever be described in these terms or talked about in this manner. Ever," he said in a statement.
Former Republican Presidential Candidate Carly Fiorina called for Trump to drop out of the presidential race.
"We must have a conservative in the White House to restore accountability, opportunity and security. For the sake of our Constitution and the rule of law, we must defeat Hillary Clinton," she wrote in a Facebook post. "Today I ask Donald Trump to step aside and for the RNC to replace him with Gov. Mike Pence."
Trump has categorically said he won't quit.
Arizona Republican John McCain said he can no longer back Trump. "I thought it important I respect the fact that Donald Trump won a majority of the delegates by the rules our party set. I thought I owed his supporters that deference," McCain told Politico. "But Donald Trump's behavior this week, concluding with the disclosure of his demeaning comments about women and his boasts about sexual assaults, make it impossible to continue to offer even conditional support for his candidacy."
Utah Rep. Jason Chaffetz also announced withdrawal of his endorsement of Trump. "I'm out. I can no longer in good conscience endorse this person for president. It is some of the most abhorrent and offensive comments that you can possibly imagine," he told Fox 13 News.
Former GOP candidate for president Jeb Bush said no apology will do. "As the grandfather of two precious girls, I find that no apology can excuse away Donald Trump's reprehensible comments degrading women," he wrote on Twitter. Similarly, Ohio Gov. John Kasich, also a former Republican presidential candidate, tweeted, "Make no mistake the comments were wrong and offensive. They are indefensible."
However, while apologizing, Trump said, "This is nothing more than a distraction from the important issues we are facing today. … I've said some foolish things, but there is a big difference between words and actions. Bill Clinton has actually abused women and Hillary has bullied, attacked, shamed and intimidated his victims."
Trump's wife, Melania, pleaded with voters in a gracious response to her husband's 2005 remarks, which she acknowledged were "unacceptable and offensive to me."
"This does not represent the man that I know. He has the heart and mind of a leader," she said in a statement. "I hope people will accept his apology, as I have, and focus on the important issues facing our nation and the world."