Trump Admin. Denies Asylum to Dozens of Iranian Christians Fleeing Persecution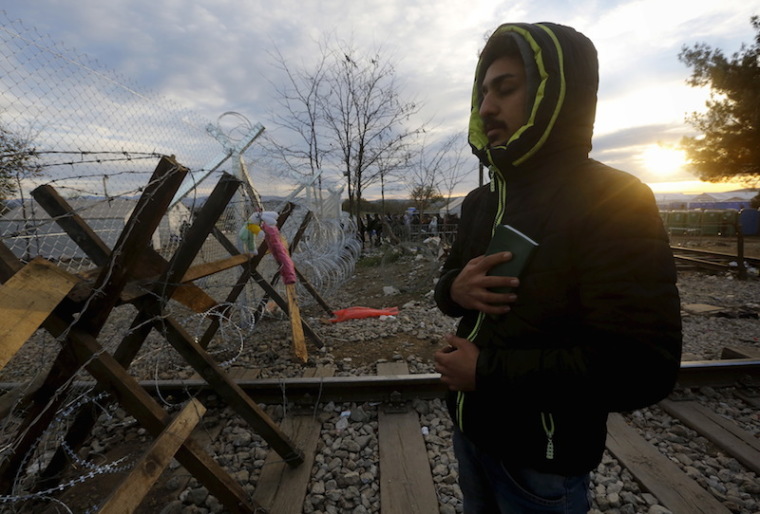 The Trump administration has reportedly denied asylum to dozens of Christians fleeing the Islamic Republic of Iran who now have about two weeks to leave Austria.
World Magazine senior editor and author Mindy Belz reports that about 76 to 80 Iranian religious minority asylum applicants were notified Monday that there applications for asylum in the United States have been denied.
The applicants have been waiting in Vienna for over a year for their applications to be processed. They were invited to seek asylum in the U.S. under a Soviet-era law that now facilitates resettlement of persecuted religious minorities from Iran called the Lautenberg Amendment.
Belz notes that about 100 applicants were invited to apply for asylum under the law. The group consists of mostly Assyrian and Armenian Christians.
Belz states that the Assyrian and Armenian Christians are "a group the Trump administration repeatedly has said it aims to help in new and more restrictive refugee protocols."
The group also includes other religious minorities such as Zoroastrians, Mandeans, and at least one Jewish family.
According to an applicant that Belz spoke to, her case and about a dozen others are still "under investigation." The source indicated that none of the 100 Iranian applicants have been officially approved for resettlement.
A State Department spokesperson said in a statement provided to media outlets that the applicants who were denied went through the extensive refugee screening process, which activists say can take up to 18 months to complete.
"These individuals were subject to the same rigorous process for resettlement as all refugees and, following input from all relevant departments and agencies, the applications for resettlement were denied," a State Department spokesperson said Monday.
The spokesperson added that the applicants still have the option of requesting a review of the decision.
However, Belz warned of the irregularity in the handling of these 100 Iranians compared to others granted asylum under the Lautenberg Amendment in the past.
"Under Lautenberg provisions, those who reach Vienna already have passed initial U.S. screening procedures and successfully documented their cases. The Austrian government issues them visas at the request of the State Department, in what amounts to an invitation from the United States to apply for asylum," Belz explained. "At that point, most Iranians sell their belongings, cutting ties to their homeland on a reasonable assurance of receiving U.S. admission. Once in Vienna, they undergo additional interviews by Department of Homeland Security officers and a medical exam."
Belz stated that in the past, the cases only took as long as two to three months to "process to completion" and that the acceptance rate was nearly 100 percent.
Belz asserted that the Iranians in this case "appear to have completed these steps a year ago." Belz spoke to a relative of one of the applicants who live in the United States. The relative explained that "their cases became stuck."
"One, an Assyrian Christian from Iran who has lived for 18 years in the United States, told me his nephew in Vienna learned early in 2017 he had passed his medical exam and his final background check, and would be issued a U.S. visa," Belz wrote. "But the visa never came through, and he did not receive information on his case until he learned Monday his case had been denied. Authorities also informed him he had two weeks to leave Austria."
A State Department spokesperson told the Washington Free Beacon that it would not force any of the applicants to return back to Iran, which is ranked as the 10th-worst country in the world when it comes to the persecution of Christians.
"The United States, the Government of Austria and others are working together on protection options for denied applicants that could include resettlement or asylum elsewhere," the spokesperson explained.
Human rights activist Nina Shea of the Hudson Institute told the Washington Free Beacon that it is possible for the administration to find an alternative solution should the applicants be denied due to security concerns.
She pointed to the fact that the Obama administration was able to find former Guantanamo Bay detainees a new home in Bermuda.
As for the Iranian Christians, Shea said that it would be "unconscionable" to send them back to Iran.
"We did not even do that to Taliban terrorists at Gitmo prison, those from China whom we feared would face persecution if we sent them back home," Shea said. "Instead, we found a permanent home for them in Bermuda."
A State Department spokesperson told Belz that at least 800 Iranian religious minorities have been approved for admission to the U.S. since January 2017.
The news of the asylum denials come as the Trump administration resettled 27,000 fewer Christian refugees in the first year of Trump's presidency than to those resettled by the Obama administration the year before.
For fiscal year 2018, the Trump administration set the lowest refugee cap of any year since 1980 by vowing to resettle just 45,000 refugees.