27,000 Fewer Christian Refugees Admitted to US in Trump's First Year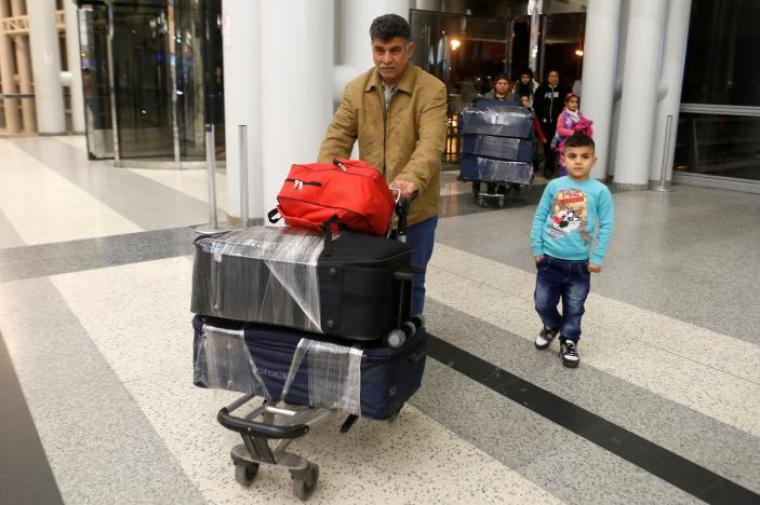 Over 27,000 fewer Christian refugees were admitted into the United States during President Donald Trump's first year in office, according to a prominent evangelical humanitarian organization.
As Saturday marks the one-year anniversary of President Donald Trump signing his controversial "travel ban" executive order that effectively slashed the number of refugees to be admitted into the U.S. to just 50,000 in fiscal year 2017, the refugee resettlement agency World Relief has analyzed the impact that such a policy has had.
"It has now been one year since the Trump administration issued an executive order preventing families fleeing tragic situations throughout the world admission to the U.S. as refugees," World Relief, one of nine agencies authorized to resettle refugees, said in a statement Thursday.
"Thousands of men, women and children from countries such as Syria, the Democratic Republic of Congo, and Myanmar, who in years past would have found America to be a place of refuge and hope, have sadly been denied the opportunity to seek shelter on our shores this past year."
According to the organization, 29,725 refugees were admitted to the U.S. during Trump's first year in office, as compared to the 99,183 that were admitted in 2016. The agency points out that although the Trump administration has capped refugee admissions for fiscal year 2018 at 45,000, the U.S. is "on track to only resettle half that number."
"In addition, about 27,000 fewer Christian refugees were admitted in the first year of the new administration than in the previous year, a decline of 63 percent, and about 80 percent fewer Muslim refugees were admitted during the same period," the World Relief statement adds. "The combination of drastically reducing the refugee arrivals ceiling with the various executive orders affecting refugees over the past year have harmed persecuted Christians as well as those of other faiths."
According to the Refugee Processing Center database, 15,684 Christian refugees were resettled into the U.S. from Jan. 20, 2017, to Jan. 19. By comparison, the U.S. resettled 42,707 Christian refugees from Jan. 20, 2016, to Jan. 19, 2017.
The Obama administration resettled 36,822 Christian refugees in 2016 and 28,462 Christian refugees in 2015. During the first year of Obama's presidency (Jan. 20, 2009, to Jan. 19, 2010,) 35,947 Christian refugees were admitted into the U.S.
During the last year of the George W. Bush presidency (2008), 32,713 Christian refugees were resettled in the U.S.
Issam Smeir, a trauma therapist who has worked with refugees and displaced persons in the Middle East and the co-author of the book, Seeking Refuge: On the Shores of the Global Refugee Crisis, analyzed how the travel ban has impacted Christians fleeing Iraq, a nation that has been ravaged by the Islamic State, in an op-ed this week published by The Washington Post.
According to Smeir, fewer than 450 Iraqi Christians have been resettled to the U.S. since Trump first signed the travel ban in January 2017. By comparison, Smeir said, 2,000 Iraqi Christians were resettled in 2016 under the Obama administration.
"Christian refugees from Iraq and elsewhere in the Middle East are being abandoned in the midst of what our State Department called a genocide. After the Islamic State took over Mosul, Iraq's second-largest city, in 2016, Christians were given an ultimatum to leave or be killed. Thousands fled to neighboring Jordan and Lebanon," Smeir wrote. "Today, these Iraqi Christians still live in exile in neighboring countries and cannot return since their houses have been burned or confiscated. The U.S. can directly help the Christians displaced by Islamic State violence by offering them a place to call home."
The Trump administration has, however, designated that $55 million in development aid be given to Iraqi Christians and religions minorities to rebuild their homes, instead of giving that money to the U.N. This comes after some organizations in the Middle East have urged Christians to return to their homeland and asked foreign governments not to facilitate further purging of Christians from the region by prioritizing them as refugees to the West. 
According to World Relief, preventing refugees from coming to the U.S. has resulted in a "net loss for our country."
"For centuries, families from around the world have made America their home after escaping horrors similar to the ones in countries that have been affected by various incarnations of the travel ban," the statement reads. "These families have become an intricate part of the fabric of our country — working here, paying taxes here, raising their children here and sharing with all of us the amazing testimony of overcoming adversity. Refugee families don't tear America apart, they make us stronger. They come to America, which President Reagan once described as a 'shining city on a hill,' and they make our light shine brighter."
Trump's refugee policy has had a serious impact on refugee resettlement agencies that partner with churches and volunteers throughout the nation to welcome refugees and get them situated in their new lives with housing and financial support.
Some refugee resettlement organizations say the Trump administration's policy changes have required them to downsize since their funding from the federal government is awarded on a per-refugee basis. World Relief said it has had to layoff over 140 employees and close at least five offices.
"Now further slowdowns in the process of refugee resettlement mean the U.S. may resettle less refugees in 2018 than in any year since the refugee resettlement program began in 1980," World Relief President Scott Arbeiter wrote in a fundraising email sent to potential donors Friday.