Trump Refugee Order Forces World Relief to Lay Off Over 140 Employees, Close 5 Offices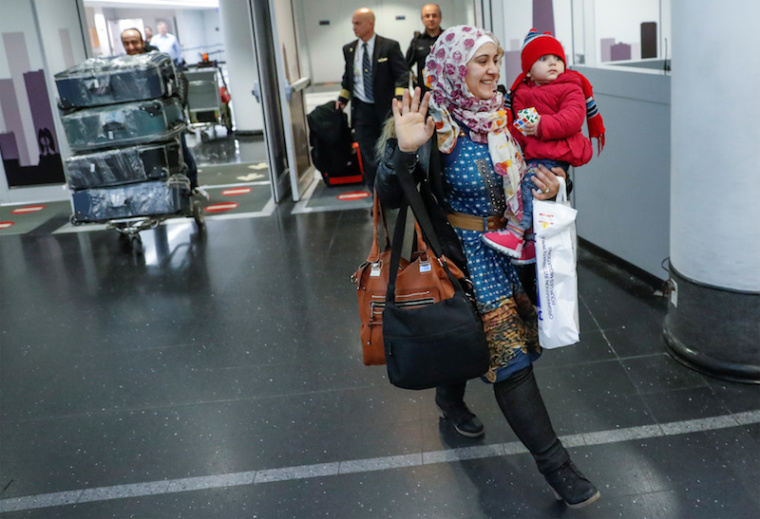 The evangelical refugee resettlement agency World Relief, one of nine agencies authorized to resettle refugees in the United States, has laid off over 140 employees and closed five local offices due to President Donald Trump's Jan. 27 executive order on refugee resettlement.
On Wednesday, World Relief, the humanitarian arm of the National Association of Evangelicals, announced that it has closed offices in Boise, Idaho; Columbus, Ohio; Miami, Florida; Nashville, Tennessee; and Glen Burnie, Maryland. In total, those five offices have helped resettle over 25,000 refugees in the past four decades.
In addition, the organization had to let go over 140 employees, including employees from all of its other resettlement offices throughout the nation.
The agency, which has been vocal in its opposition to Trump's executive order suspending all refugee resettlement for 120 days and reducing the number of refugees to be resettled in fiscal year 2017 from 110,000 to 50,000, explained in a press release the closings come as a "direct result of the recent decision by the Trump Administration to dramatically reduce the number of refugees resettled in the U.S."
Considering that the order caps the total refugees to be resettled into the U.S. at 50,000 (the lowest U.S. refugee limit since the Refugee Act was passed in 1980) and over 35,500 refugees have already been resettled into the country in fiscal year 2017, that means that less than 15,000 refugees can be resettled for the rest of fiscal year 2017.
World Relief's U.S. Director of Church Mobilization Matthew Soerens told The Christian Post on Thursday morning that the ministry receives a good chunk of its funding on a per-refugee basis from the State Department. The organization was expecting to resettle about 11,000 refugees in fiscal year 2017 after Obama having raised the refugee limit from 85,000 in fiscal year 2016 to 110,000. But now that Trump has capped the limit at 50,000 for the year, the organization expects to only resettle about 5,000 refugees in fiscal year 2017.
So far, the organization has resettled 3,471 refugees since the fiscal year began on Oct. 1, 2016, meaning that it will resettle only about 1,500 more refugees until a new fiscal year begins in October.
"Part of our budget is federal funding from the State Department that comes in a per-refugee grant. Most of those funds go directly toward the expenses for refugees' resettlement, particularly the cost of rent where we cover their apartment for the first few months while they are in the country. But it also covers a portion of our staffing costs for caseworkers and that sort of thing," Soerens explained. "With such a sudden and overnight reduction in the number of refugees that will be arriving, that also impacts our budget and that is where we had to make some really tough decisions. With the few refugees that will be arriving, we will be splitting them among about 20 offices instead of about 25. There have been staff cuts in almost all of our U.S. offices and at our home office as well."
Although the Ninth Circuit Court has ruled that refugees may continue to be resettled into the country despite the fact that Trump's order bans refugees resettlement for 120 days, the court ruling does not affect Trump's 50,000 refugee limit.
"We have been at a staffing level to support the current rate of refugee arrivals," Soerens said. "Rather than just doing equal staff reduction in all offices, we were facing a situation where some of our offices would have 100 individuals arriving a month over the last few months with the [Obama refugee levels]. Now we are looking at a situation where some of our offices, even with closing a few offices, we might have, on average, one or two families arriving per month."
"Beyond the fiscal ramifications, there is just a lot less that we are able to do in terms of serving new refugee arrivals," he continued. "We are going to continue to serve those that are already here and we are going to serve other immigrants as well but that major part of our ministry which has been welcoming refugees at the airport and taking them to a local church and helping them find jobs and housing and getting their kids into school, there will just be a lot less of that to do."
Soerens added that the layoffs and office closures alone will not help World Relief overcome the loss of revenue resulting from the new refugee limit.
"We are presuming that we are going to have to increase our private fundraising goals," Soerens said. "We have always received some of our support from the federal government but we have always received significant support from local churches and private individuals. Our ability to sustain our infrastructure for refugees is really going to have to rely more heavily on churches and individuals right now."
Soerens said that it is possible that World Relief might have to make further budget cuts if it is not able to increase its private fundraising.
"That is certainly not our intention but that is not impossible if we don't raise additional funding," he added.
World Relief accepts donations through its website.