Trump Spox Omarosa Manigault Says Election Winner Will Be Ordained by God
Donald Trump surrogate, Rev. Omarosa Manigault, who shot to reality stardom for her villainous turn on "The Apprentice" said Wednesday that anyone who eventually becomes president after the election season will be ordained by God.
Preaching a mini sermon from Romans 13 at Al Sharpton's National Action Network convention in New York City, Manigault, vice chairwoman of the national diversity coalition for the Republican presidential frontrunner's campaign, also said the most important name to her is the name of Jesus Christ.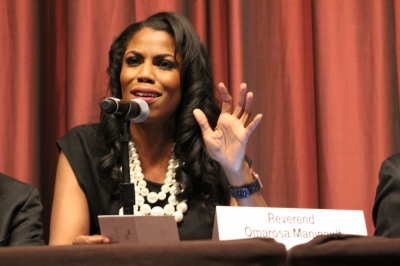 "Romans 13 tells us that there is no authority but that that God ordains. And so now no matter what side of the aisle that you're on whether you're Republican or Democrat, independent. Whether you're with Bernie or with Sandy, it doesn't matter. What matters is that no matter who goes in office every knee shall bow and every tongue must confess that Jesus Christ is Lord. Amen?" said Manigault with religious fervor.
Romans 13 begins: "Let every soul be subject unto the higher powers. For there is no power but of God: the powers that be are ordained of God."
Manigault, who admitted that while Trump's agenda might not align with the agendas of many of the people at the convention, his campaign is focused on addressing economic disparities, fostering job creation in minority communities, supporting small businesses and preserving faith and family.
"This is the day that the Lord has made and we shall rejoice no matter where we are or how many VIPs are in the room, let me just tell you. The most important name that's in my name [book] is that of Jesus Christ, amen somebody," she said to replies of amen.
"My goal in this unique election is that of a clergy member. When me and 100 other clergy stood up there with Donald Trump folks almost lost their mind. But I know what the word of God says. It says go ye therefore unto all nations and teach, baptize and then teach again, amen? And so I'm gonna do what God called me to do which is to advise the word of God to people who may not always look like us, who don't always agree with us," she told the crowd.
"I'm not going to insult your intelligence and say that our agenda is specifically designed to appease the folks in this room but he [Trump] stands on his vision and out of loyalty I stood with my friend, in fact I have been called names by some of the folks up on this panel. Amen somebody, but I ain't never scared. No justice, no peace," she declared.
Manigault, who is also a professor of business at Howard University said she was also very concerned about the state of historically black colleges. Recent reports indicate that these schools have been decimated by declining student enrollment, low graduation rates and problems raising money.
"What's very close to my heart as professor of business at Howard University is preserving black colleges and universities, so many of our doors are trying to keep open for black colleges so that's one of the agendas that I have … but no matter who you vote for vote," she said. "People gave their lives so we can have this right."