Trump's 'Meet the Press' comments spark debate about pro-life tactics post-Roe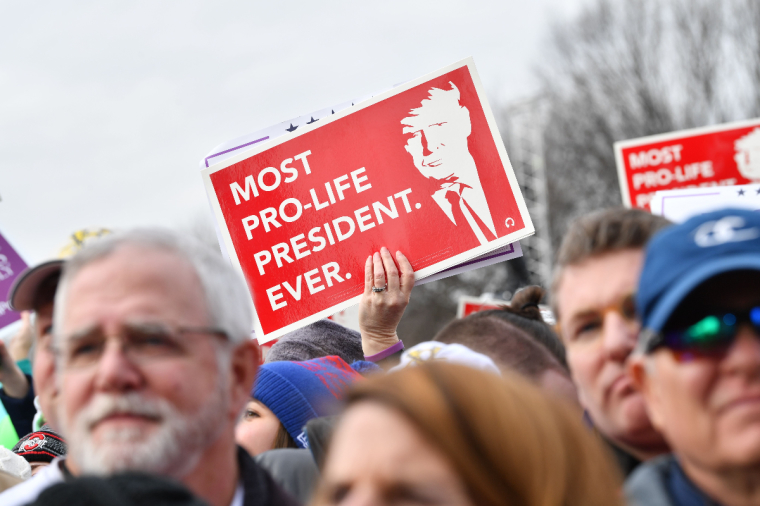 Former President Donald Trump's recent remarks about abortion during an interview on "Meet the Press" have sparked debate among pro-life advocates about whether the movement should focus on fighting for a federal abortion ban or keep it a states' rights issue. 
Earlier this month, Trump told Kristen Welker of NBC's "Meet the Press" that, as president, he would negotiate with both sides of the abortion debate and there would be "peace" on the issue for the first time in over 50 years. 
During that interview, he also criticized his Republican rival, Florida Gov. Ron DeSantis, for signing a six-week abortion ban, referring to it as a "terrible thing and a terrible mistake." The former president did not say whether he would join his fellow GOP presidential candidates in supporting a federal 15-week abortion ban should one ever pass both chambers of Congress. 
Timothy Head, executive director of the national grassroots Christian conservative activist group Faith & Freedom Coalition, told The Christian Post that there's disagreement in the pro-life movement over tactics following the reversal of Roe v. Wade in June 2022. 
Head said Faith & Freedom Coalition has spoken with various political leaders about abortion, noting that they all appear to have different approaches to the issue. 
Responding to Trump's comments about abortion during the "Meet the Press" interview, Head said he thinks the former president still supports the pro-life movement but is deliberately refusing to clarify his policy positions. 
"I don't think he likes the idea of marrying himself to a 15-week bill," he said. "Partly because there could be the possibility of something even better than a 15-week bill or approaches that have nothing to do with gestational limits." 
The Faith & Freedom Coalition executive director asserted that if Trump is elected president again, he would re-enact pro-life policies, such as the Mexico City Policy. 
Under the Trump administration, international non-governmental organizations that promote or provide abortions overseas were barred from receiving U.S. tax dollars. President Joe Biden rescinded the policy upon taking office.
The former president spoke at a Faith & Freedom Coalition conference in June, where he referenced his appointment of three U.S. Supreme Court justices who ruled in favor of a Mississippi abortion ban, reversing Roe. According to Head, during a policy discussion leading up to the conference, Trump's staff indicated that he would support similar pro-life policies under a new administration. 
While Head said he and his organization would be pleased to see a federal 15-week abortion ban or an earlier gestational limit on abortion, he doesn't believe there's enough support for it in Congress, noting that such a change would require 60 votes in the Senate. 
"So, in the meantime, that's the reason why we at Faith & Freedom continue to lobby so hard in the state legislature," the executive director said, noting that he sees it as pragmatic to focus on the states while there is progress to be made there. 
Head said that pro-lifers and political leaders should educate Americans about the "brutality" of abortions that take place from 12 to 15 weeks. One of the ways that he sees pro-lifers raising awareness about this issue, particularly among voters who might be undecided, is to discuss abortion and the states that have loosened restrictions since Roe. 
As The Christian Post previously reported, various pro-life advocates condemned Trump for his remarks during the "Meet the Press" interview, with some leaders in the movement arguing that there is no room for compromise on abortion. 
Lila Rose, the founder and president of the pro-life group Live Action, wrote in a Sept. 17 post on X that Trump's comments were "pathetic and unacceptable." The pro-life leader declared that Trump should not be the GOP nominee for president.
"Trump is actively attacking the very pro-life laws made possible by Roe's overturning," she stated. "Heartbeat Laws have saved thousands of babies. But Trump wants to compromise on babies' lives so pro-abort Dems 'like him.'"
Kristan Hawkins, the president of the pro-life organization Students for Life of America, also criticized Trump on X, arguing that "protecting human life at 5 or 6 weeks isn't a 'terrible thing'... it's the right thing."