Trump-Supporting and Trump-Loathing Churches Are Making Christians Uncomfortable: Reformed Pastor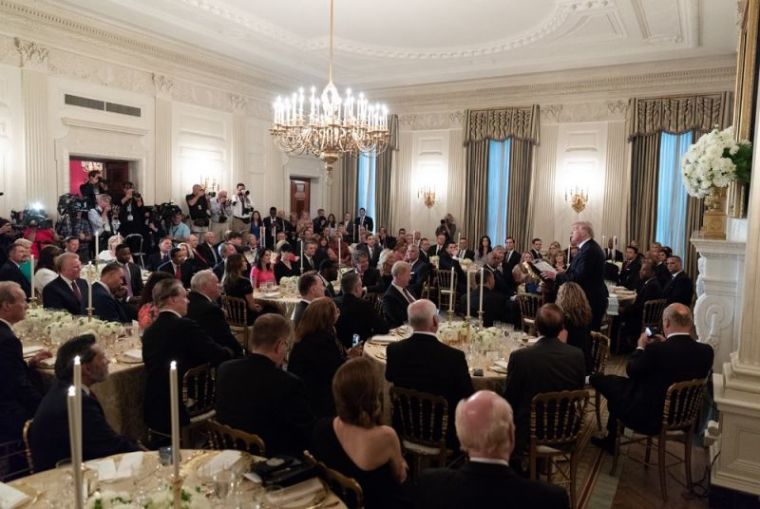 Heavily Trump-supporting, Trump-loathing, or politically uniform churches can be making some Christians feel uncomfortable, Reformed evangelical theologian Kevin DeYoung has warned.
DeYoung wrote in a blog for the The Gospel Coalition on Wednesday that he encourages Christians to be well-informed and engaged in the political process. At the same time, he explained that there are a number of things that he as the pastor of Christ Covenant Church in Matthews, North Carolina, refuses to do.
"As a pastor, I do not provide voter guides for the congregation. I know there are other pastors who advocate the practice, but in my experience even non-partisan voter guides are never completely non-partisan," he wrote.
"There's also the practical issue of how visitors and 'outsiders' tend to view these guides. For millennials and minorities, 'values' voter guides usually signal 'this is a church for Republicans.' We can say that's not the intent, and I believe most Christians passionate about these guides are motivated by a sincere desire to inform people about the issues, but the fact is most white evangelical churches are already overwhelmingly Republican," he pointed out.
Next, he wrote that he does not encourage voter registration drives in the lobby after church, even though he recognizes the importance of voting.
"I am hard pressed to find scriptural warrant for thinking Christians must vote as a matter of obedience to Christ. By conducting voter registration in the church we are communicating, 'This is what Christians should do,'" he pointed out.
"Voting is generally a good thing, but I have no biblical authority to say a Christian must vote (would we exercise church discipline on someone who didn't?), nor do I think that voting is such a necessary expression of the fruit of the Spirit that it is the church's responsibility to get people registered."
Finally, he explained that he does not give a public platform to political candidates at his church.
"Even with the best of intentions, introducing a candidate injects a note of politics into the service. Of course, we welcome all political candidates to worship with us or simply to check out our church, but to ask for (or to invite) an introduction or recognition in the worship service misappropriates the purpose of the Lord's Day gathering," he argued.
"I don't want there to be any confusion about whether the church is endorsing a candidate by noting his presence. Nor do I want to give the candidate the opportunity to be seen and recognized in public worship. He (or she) should be in worship to worship, not to be seen as someone who worships. And if the goal is simply to meet constituents, that purpose can better be served in another venue at another time," DeYoung continued.
The Reformed pastor positioned that these three "do nots" of his are actually common place in other churches, however.
"Republican-voting, [President Donald] Trump-supporting churches do these things. Democrat-voting, Trump-loathing churches do these things. But however common these things may be, I do not believe they are wise. They presume for the church an authority that she does not have, and they present an obstacle to fellowship that need not be present," he said.
DeYoung argued that many churches are politically uniform.
"The voter guides go out because almost everyone already agrees with them. The candidate gets recognized because almost everyone already votes for that party. Voter registration happens because we assume people in our church are going to vote for the people we vote for," he noted.
"My fear is that, put together, these measures are more effective at limiting the number of people who feel comfortable at our church than they are at increasing the number of people who vote 'the right way.'"
DeYoung, who is board chairman of The Gospel Coalition, has written other articles of advice related to voting in American politics. In December 2017, he took aim at the notion of voting "for the lesser of two evils," arguing that if that really is the choice, than Christians should not vote at all.
"Am I saying then we never vote? No. I'm saying that the phrase 'lesser of two evils' may not be the right one. Perhaps we really mean 'the less bad of two bad options.' But if we are really making an evil choice, we shouldn't do it, no matter what party might win with or without our vote," he wrote back then.