'Trump, You Have Made History': 5 Important Quotes From US Embassy in Jerusalem Ceremony
Benjamin Netanyahu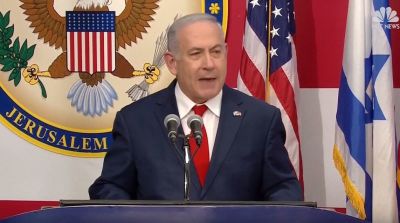 Israeli Prime Minister Benjamin Netanyahu expressed his admiration for President Trump's decision to move the U.S. embassy to Jerusalem, recognizing it as the capital of Israel.
"Remember this moment," stated Netanyahu to those gathered, who then added, "President Trump, by recognizing history, you have made history."
"Thank you, President Trump, for having the courage to keep your promises," Netanyahu continued. "Thank you President Trump and thank you all, for making the alliance between America and Israel stronger than ever."
Trump also received praise from evangelical leaders, including Harvest Christian Fellowship Pastor Greg Laurie and First Baptist Church of Dallas Lead Pastor Robert Jeffress, who spoke at the ceremony.
"Without President Trump's determination, resolve, courage, we would not be here today," stated Jeffress in a prayer in which he thanked God for Trump's "tremendous leadership."