Tullian Tchividjian Preaches on God's Faithfulness After Sex Scandal: 'I Broke My Own Life'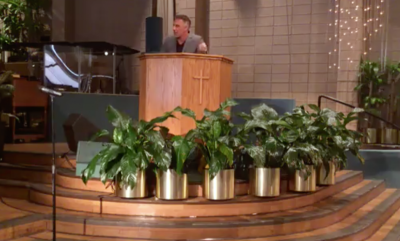 Tullian Tchividjian, the grandson of famed evangelist Billy Graham, recently delivered a sermon reflecting on his "broken" journey over the last three years and the work of God in his life since he publicly "crashed and burned."
In a Feb. 8 blog post, Tchividjian shared footage of a sermon he preached on Sunday at New Mount Olive Baptist Church, a historic African American church in Fort Lauderdale, Florida. It was the first time he spoke publicly in that city since resigning from Coral Ridge Presbyterian Church in 2015 after admitting to an extramarital affair.
"It was also the first time since 2015 that my Mom, one of my brothers, and two of my three children heard me speak publicly," the Jesus + Nothing = Everything author revealed. "It was an emotional morning for me."
Tchividjian began his sermon, based on Philippians 3:4-9, by revealing that before his downward spiral, he was a successful pastor who led a large, well-known church, had written numerous best-selling books, enjoyed a large TV presence, and traveled all around the country speaking at conferences.
"According to the world's standards, I had everything ... I had somewhat of an impressive resume," he said. "I had a tight family, I had money, I had influence, I had a good reputation, I had tons of support."
In many ways, Tchividjian said, he was a "celebrity pastor." And then it all came crashing down.
"I'm 45 years old now, and my life is broken in ways now that it never was for the first 42 years of my life," he admitted. "Two things that I had come to believe were secure forever were my marriage and my career. I lost both during the late spring, early summer of 2015 due to my own sin, my own selfishness. I was unfaithful to my wife, and therefore I deserved to lose both my marriage and the ministry God had given me, and I lost it all very publicly."
With those two losses, Tchividjian said, came "a thousand other losses," including the "loss of friendships, the loss of peace and security on my three kids' faces, the loss of purpose, the loss of credibility, the loss of confidence in God's goodness, the loss of financial stability, the loss of hope, the loss of joy, the loss of opportunity, the loss of life as I knew it."
Overnight, his life went from feeling like a "fairytale" to a "violent tragedy."
"I broke my own life, I broke my own family, and I broke the hearts of people who loved and trusted me. I wanted to die. I literally wanted to die," the former pastor said. His voice breaking, Tchividjian revealed he even penned a suicide note.
"It was the first time in 42 years I'd been alive that I had no hope whatsoever," he said. "How did I get to that place? How did anyone get to the place where they are actually contemplating killing themselves? I had never been to that dark place before."
Often, we don't realize how much we depend on the things that make life worth living until they're gone, the pastor said, explaining his worth, value, and security was anchored in his family, success and praise.
When those things were gone, "I no longer knew who I was. I felt dead, therefore, I might as well be dead," he said.
After six years at the helm of Coral Ridge, Tchividjian resigned in the summer of 2015 after confessing to infidelity. He was also deposed of his pastoral credentials by the South Florida Presbytery and divorced Kim in a very public breakdown of his marriage. 
During this dark season, Tchividjian said that a good friend of his told him, "The purpose behind the suffering you are going through is to kick you into a new freedom from false definitions of who you are."
Those words, Tchividjian said, helped him realize that his identity should be firmly rooted in Jesus Christ's accomplishments and victory — not his own.
"You are not what you do, you are what Jesus has done for you," he emphasized. "Because of what Jesus has done for you, you don't need to spend your life trying to earn the approval and acceptance and affection that you long for, because Jesus has already earned God's approval, God's acceptance, and God's affection for you."
Christianity, he said, is fundamentally about substitution — that "Jesus has come to do for you what you could not do for yourself."
"Because Jesus won for you, you're free to lose," Tchividjian, who remarried in 2016, contended. "Because Jesus was strong for you, you're free to be weak. Because Jesus was someone, you're free to be no one. Because Jesus was extraordinary, you're free to be ordinary. Because Jesus succeeded for you, you're free to fail ... No sin of yours will ever tempt God to leave you or forsake you, ever."
When we understand the profundity of the Gospel, we are able to find our identity in Christ, he stressed.
"It's true that Jesus plus nothing equals everything, and that everything minus Jesus equals nothing. But this doesn't mean that our struggle is over," he said. "God is committed to setting us free, even if it means we have to lose a leg so we can finally dance. Even it means we have to lose an eye so we can finally see."
He concluded: "Your brokenness in this life isn't going away, but neither is God. He will be there with you, He will never leave you, He will never forsake you. You may let go of Him, but He will never, ever let go of you."