Unmarried Republican Senator Lindsey Graham Vows to Have 'Rotating First Lady' If He Is Elected President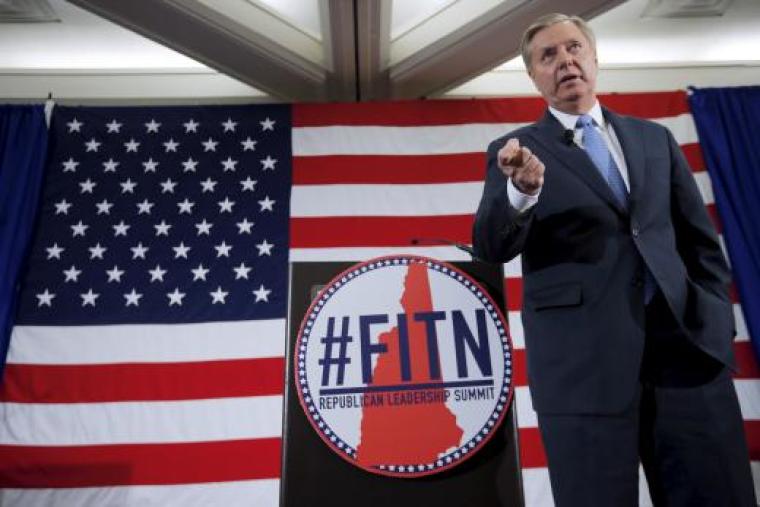 Unmarried Sen. Lindsey Graham, R-S.C., joked recently that if he's elected president in 2016 he will have a "rotating first lady."
In an interview with Daily Mail Online U.K., the 59-year-old Republican presidential hopeful joked about employing his sister, Darline Graham Nordone, who's married with two children, as one of multiple women who could fill the role of first lady. If elected, the bachelor would become the first unmarried man in the White House since Woodrow Wilson, who lost his first wife in 1914.
"Well, I've got a sister, she could play that role if necessary," a chuckling Graham, who was born and raised in South Carolina, told Daily Mail Online at a campaign event recently. "I've got a lot of friends. We'll have a rotating first lady."
There have only been two U.S. presidents who were unmarried when they took office, James Buchanan and Grover Cleveland. Historically, a president's sisters, daughters and other relatives will step in to fulfill White House duties in the absence of a first lady.
The self-described "Reagan-style Republican" officially declared his presidency in an announcement on June 1.
Often referred to as a "leading war hawk" by NPR and interventionist for his advocacy of strong national defense, Graham also called himself a "fun guy" when asked about his personal hobbies.
"I'm actually a fun guy. I'm a lot of fun to hang around with. Just ask people who know me. Just ask my Senate colleagues. … I think I've got a pretty good reputation of bein' easygoing," he said. "I'm a social kind of guy."
He added: "If I get to be in the White House, I'll bring members of Congress and their families down. We'll interact like Ronald Reagan did, we'll have a lot of chance to get to know each other. I think one of the biggest mistakes President Obama made was being a little too distant."
Graham is among several Republican hopefuls gunning for the GOP leadership. Others include former Florida Gov. Jeb Bush; retired neurosurgeon Ben Carson; 2012 candidate and former Pennsylvania Sen. Rick Santorum; Florida Sen. Marco Rubio; businesswoman Carly Fiorina; Kentucky Sen. Rand Paul; Texas Sen.Ted Cruz; former Texas Gov. Rick Perry; former Arkansas Gov. Mike Huckabee and former New York Gov. George Pataki.