Up to 950 Migrants Fleeing Libya, Middle East Feared Dead After Boat Capsizes; Pope Says They Were 'Looking for Happiness'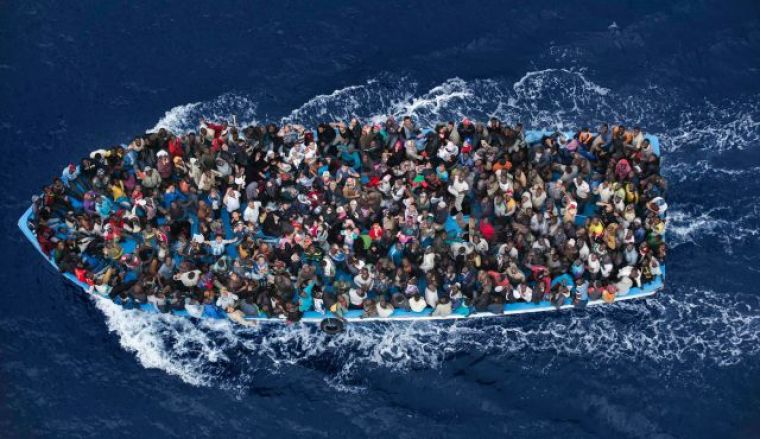 Some 700 migrants, a number which could climb to 950, fleeing poverty and persecution to find "a better life" and "happiness" in Europe are now feared dead after the boat they were travelling in capsized in the Mediterranean some 112 miles south of Italy's Lampedusa shortly before midnight Saturday.
One survivor quoted by Italy's Ansa news agency says there were 950 migrants aboard the boat when it sank.
"They are literally trying to find people alive among the dead floating in the water," Joseph Muscat, the prime minister of Malta – the first port of call for many of the 35,000 migrants who arrived in southern Europe so far this year. "Children, men, and women have died."
A release from the office of the UN High Commissioner for Refugees, António Guterres, on Sunday said so far their sources were reporting 700 migrants aboard the doomed vessel and just 50 of them had been rescued. If that number is confirmed, said the agency, it would be the "largest loss of life from any incident on the Mediterranean involving refugees and migrants."
"This disaster confirms how urgent it is to restore a robust rescue-at-sea operation and establish credible legal avenues to reach Europe. Otherwise people seeking safety will continue to perish at sea," said Commissioner Guterres in the release Sunday before making an appeal for help from the European Union to address the ongoing crisis pointing out that only last week 400 lives were lost at sea in another incident. The Lampedusa disaster of October 2013 also saw almost 600 lives lost in two separate incidents.
"It also points to the need for a comprehensive European approach to address the root causes that drive so many people to this tragic end. I hope the EU will rise to the occasion, fully assuming a decisive role to prevent future such tragedies," he said.
According to USA Today, the European Union's foreign minister, Federica Mogherini, added migration as a last-minute emergency issue to an EU foreign ministers' meeting on Monday in Luxembourg.
"Europe can do more and Europe must do more," said Martin Schulz, president of the European Parliament. "It is a shame and a confession of failure how many countries run away from responsibility and how little money we provide for rescue missions."
Pope Francis who has spoken on the issue of migrants in the past also gave his strongest appeal yet for international help with the migrant crisis in his weekly Angelus address to a crowd of pilgrims gathered in St Peter's Square on Sunday.
"A big boat laden with migrants overturned last night and it is feared there are hundreds of victims," said Pope Francis.
"They are men and women like us, our brothers seeking a better life, starving, persecuted, wounded, exploited, victims of war. They were looking for a better life, they were looking for happiness," he said. "I invite you to pray in silence first and then all together for these brothers and sisters."