US Citizen Caitlan Coleman and Family Freed After Being Kidnapped by Taliban in 2012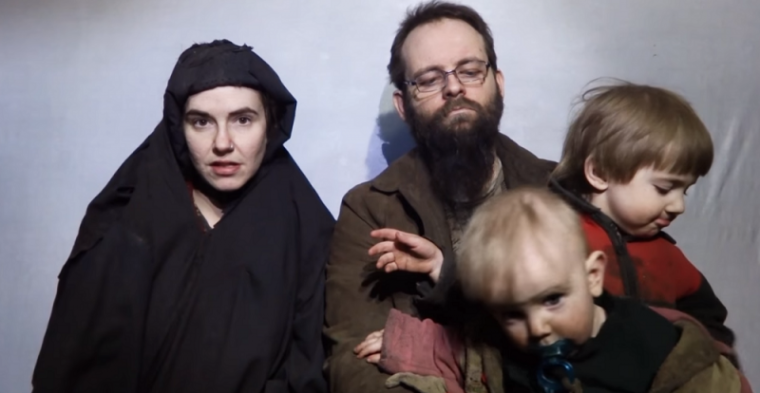 Pennsylvania native Caitlan Coleman, her husband and three children have finally been rescued from the grips of a Taliban-affiliated extremist group.
It was announced Thursday that 32-year-old Coleman, her Canadian husband, Joshua Boyle, and their three children born during captivity are now free after the couple was kidnapped by the Taliban-linked Haqqani network in October 2012.
At the time of their abduction, Coleman was seven months pregnant with her first child. She gave birth to a total of three babies while under abduction.
"Yesterday, the United States government, working in conjunction with the Government of Pakistan, secured the release of the Boyle-Coleman family from captivity in Pakistan," President Donald Trump said in a statement Thursday morning.
"Today they are free. This is a positive moment for our country's relationship with Pakistan," Trump added. "The Pakistani government's cooperation is a sign that it is honoring America's wishes for it to do more to provide security in the region."
Fox News reports that Coleman and Boyle were captured while embarking on a summer vacation journey that took them to Russia, Kazakhstan, Tajikistan and Kyrgyzstan and finally Afghanistan. The last time that Coleman's parents heard from Boyle was on Oct. 8, 2012, when he talked to them from an "unsafe" part of Afghanistan.
U.S. intelligence agencies had been tracking the hostages when they were brought into Pakistan on Oct. 11, according to Canadian Press.
"All hostages were recovered safe and sound and are being repatriated to the country of their origin,'' the Pakistani military said in a statement.
The couple has appeared in a number of different videos released online by their captors. One video released last August warned that the couple and their children would be killed if the Afghanistan government didn't stop executing Taliban members.
In a December 2016 video, Coleman stated, "My children have seen their mother defiled."
"It is an indescribable emotional sense one has watching a grandson making faces at the camera, while hearing our son's leg chains clanging up and down on the floor as he tries to settle his son,'' Boyle's parents said in a statement following the video's release. "It is unbelievable that they have had to shield their sons from their horrible reality for four years.''
Although the news of the Coleman-Boyle family's release was announced Thursday, Trump seemed to suggest that she was released during a tax reform speech in Harrisburg, Pennsylvania, on Wednesday.
"America is being respected again. Something happened today, where a country that totally disrespected us called with some very, very important news," Trump said. "And one of my generals came in. They said, 'You know, I have to tell you, a year ago they would've never done that.' It was a great sign of respect. You'll probably be hearing about it over the next few days. But this is a country that did not respect us. This is a country that respects us now. The world is starting to respect us again, believe me."
Pakistan's cooperation in helping secure the hostages' release comes as the U.S. has criticized the Pakistani government for not taking serious steps to crack down on the Haqqani network and other extremist organizations.
Last year, the U.S. State Department criticized Pakistan's efforts against "externally-focused" terror groups as being "not sufficient." Chairman of the Joint Chiefs of Staff General Joseph Dunford even accused the Pakistani government of having ties to extremist groups earlier this month, a fact that a Pakistani Army spokesperson even admitted.
"There is a difference between links and support. Name an intelligence agency of any country that doesn't have links with such groups," Major General Asif Ghafoor said during a press conference Thursday, according to Voice of America.