US Embassy Officials Help Persecuted Chinese Christian Family Escape to America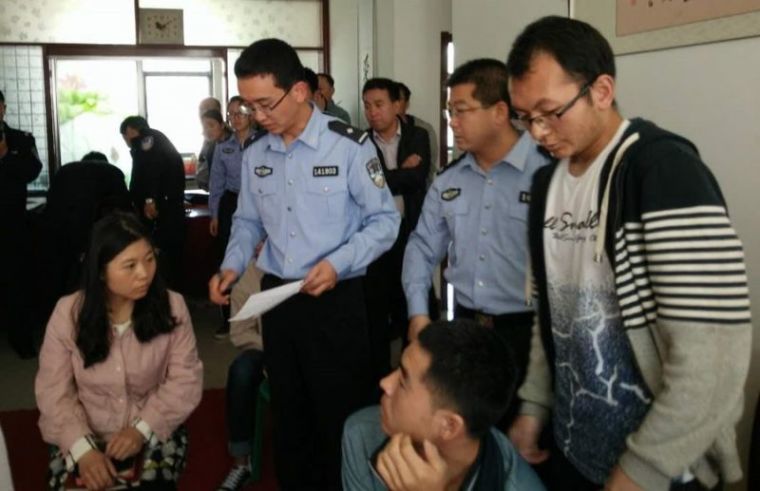 United States government officials helped save a threatened Chinese Christian family from being deported back to China by sweeping them from detention in Thailand as Chinese security agents were coming to take them away.
Chen Guiqiu, the wife of imprisoned and tortured human rights lawyer Xie Yang who was arrested in 2015 on charges of inciting subversion, and her two daughters, one of which is a U.S. citizen, were imprisoned in Bangkok and facing deportation orders on March 3 when God answered their prayers, the Associated Press reports.
Having just been issued a deportation order, Chen was shown surveillance footage of the jail's entrance where there were at least a dozen Chinese government agents waiting to escort her and her girls back to China, a country that ranks as one of the world's worst persecutors of Christians and where they could have faced punishment for fleeing the nation.
"Don't desert us now, not like this," Chen recalled praying, in her interview with AP.
And, He didn't.
Just in the nick of time, U.S. Embassy officials came to the rescue and led Chen and her daughters out the back door of the jail. After the Chinese officials learned what happened, they chased after the family and the U.S. officials. It was at the airport in Bangkok that the embassy workers and Chinese agents engaged in a heated argument over who had rightful custody of the family.
A source with knowledge of the altercation told AP that the encounter heated up so much that it almost turned physical.
Although sources were not able to reveal how the negotiations ended without exposing diplomatic sensitivities, somehow Chen and her daughters finally arrived to the U.S. on March 17.
But had it not been for the fact that Chen was connected with Texas-based Bob Fu, a pastor and founder of the legal aid group China Aid who also helped other well-known Chinese Christians and human rights activists flee China, her family's fate might have been different.
Chen and her girls decided to leave home because government pressure increased after Chen helped release her husband's testimony in January, which made international headlines because of the allegations that he was beaten and tortured by prison officials in China.
AP reports that following the reports of Xie's treatment in prison, which is consistent with other reports of police abuse in China, Chen was summoned by police for meetings that lasted hours.
In those meetings, she said officials threatened to deny her kids education, and have her fired from her job as a professor at Hunan University and evicted.
The threats only got worse as authorities were failing to extract a confession from her husband.
Tired of the government threats stemming from the situation with her husband, who was arrested during a crackdown on human rights lawyers in July 2015, Chen decided that it was time to leave the country and did so on Feb. 19.
"We're going on a trip," Chen recalled telling her daughters at the time.
However, they encountered a problem. Chen's 14-year-old daughter was detained by police when she tried to board a train for Hong Kong, which meant that there was a travel ban placed on them.
It was then when Chen sought help from Fu, who helped blind human rights lawyer Chen Guangcheng flee to the United States in 2012 after he escaped house arrest.
Fu had connections at a safe house in Bangkok. After trekking through two countries without paperwork on foot and by car for five days with little food, Chen and her daughters arrived safely at the safe house.
However, the Chinese government heard of Chen's escape. According to AP, government officials forced her 70-year-old father, her sister and her boss to travel to Thailand in an attempt to find her.
It was on March 2 that Chen and her girls were located at the safe house and jailed. And the next day, a Thai judge ordered the family to be deported back to China.
But thanks to Fu, who contacted the U.S. State Department and some of his allies in Thailand, U.S. officials located Chen's daughters while she was in court for the deportation proceeding. After locating Chen, U.S. officials successfully persuaded Thai officials to let them leave with the woman and her children.
After speeding to the airport, immigration officials stopped Chen because Chinese officials were pressuring them to prevent Chen and her girls from leaving the country. After about two weeks of negotiating, Chen and her daughters were finally allowed to leave and entered the U.S. on March 17.
It is unclear why Chen and her daughters were finally allowed to leave and where they were housed during the weeks their departure was being negotiated.
"China is exporting its human rights abuses beyond its borders," Susan Shirk, former deputy assistant secretary of state for East Asia and chair of the 21st Century China Center at the University of California, San Diego, told AP. "The Thai government has always tried to maintain good relations with the U.S. and with China ... but these kinds of cases make that balancing act very difficult."
Justin Higgins, a State Department spokesman for East Asia, told AP that the U.S. is urging China to release Xie and the dozens human rights lawyers detained in the July 9, 2015 crackdown and "remove restrictions on their freedom of movement and professional activities."
According to Open Doors USA's World Watch List, China ranks as the 39th worst nation in the world when it comes to Christian persecution.
"As Christians are the largest social force in China not controlled by the Communist Party, there are increasing efforts to bring them under state control," an Open Doors fact sheet states. "Historical Christian communities (including government-controlled churches) and non-traditional Protestant Christian communities are monitored and limited in their freedom of religion."