Values Voters Want Ted Cruz, Ben Carson for President in 2016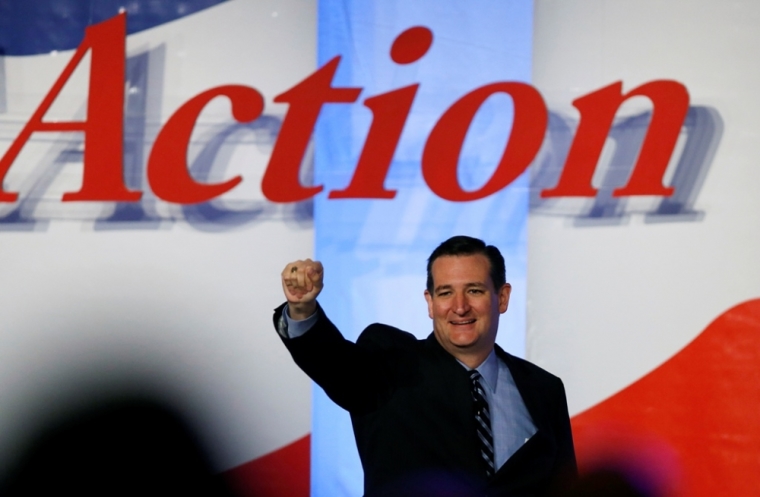 WASHINGTON — The Family Research Council, a social conservative Christian advocacy group, announced Saturday that Sen. Ted Cruz, R-Texas, has won the annual Values Voter Summit straw poll for the second consecutive year, while retired neurosurgeon and best-selling author Ben Carson finished first in the polling for vice president.
Cruz earned 25 percent of the vote for president, while Carson finished five percentage points behind him earning 20 percent of the vote. Carson won the poll's vice presidential voting with 22 percent, 8 percentage points ahead of Cruz. Cruz earned 228 presidential votes, while Carson earned 179.
Former Arkansas Governor Mike Huckabee finished third in the presidential voting with 12 percent, while Louisiana Governor Bobby Jindal finished third in the vice presidential voting at 11 percent.
The poll was conducted via mobile votes from 901 attendees of the group's annual summit in Washington, D.C. over the course of Friday into Saturday. The poll included over 22 candidates, including prominent Democrats Hillary Clinton and Joe Biden.
"I think we are going to have a big challenge in 2016, not because we have an absence of good, solid conservative candidates, but because we have so many," Family Research Council President Tony Perkins said in an interview with The Christian Post. "I think we are going to have one of the largest fields of solid, conservative candidates that we have seen in a long time."
At a press conference after announcing the poll results, Perkins said that values voters do not lack enthusiasm when they have a candidate to be enthusiastic about.
"Just tell it like it is, have the record to back it up and don't equivocate on our stands and you'll get our support," Perkins advized candidates seeking the support of values voters.
Carson, who has already won a few straw polls this year, was the only candidate that finished in the top three of the voting that did not attend the event. Although Carson has relatively no political experience under his belt, Carson continues to gain political support with his unwavering conservative comments in the limelight of national media.
Despite a lack of experience that usually prevents candidates from having a strong impact on primary elections, Perkins said he feels Carson could be a "serious contender" to win the Republican primary if he decides to run in 2016.
"He is extremely popular. … If he decides he wants to [run], I think he could be a serious contender," Perkins said. "He is another example of someone who refuses to be throttled down by political correctness and is simply speaking the truth. He is laying it out there. He is giving an accurate diagnoses of where America stands and people respond to that. … Republican minded voters are looking for someone who will simply tell the truth and Dr. Carson fits that category."
The poll also listed 12 policy issues and asked voters to rank their top three issues of importance. The highest ranked issue among the voters was the protection of religious liberties which earned 39 percent of the vote. Pro Life/abortion ranked second, while protection of natural marriage ranked third.
Although the voters ranked social issues top three in their own priorities, Perkins said that he feels it will be important for Republican presidential candidates to highlight conservative foreign and economic policies without disregarding the social conservative values that maintains the Republican base voters' enthusiasm.
"In 2012, a large percentage of the Republican base stayed home because the candidate was coached to step over the base to try and reach the middle and did not connect with the Republican voting base by talking about those key issues," Perkins said. "I believe if the Republicans want to win, and I am not just talking about the primaries but the general election, they need to have a candidate who the base trusts believes and is enthusiastic about."
About 1,900 people registered for the summit, which is 100 more than last year and a record for a year that does not precede a presidential election year.