Ventura Fire Updates: Victims Struggle in Evacuation Shelters; Charitable Organizations Team Up, Ask for Donations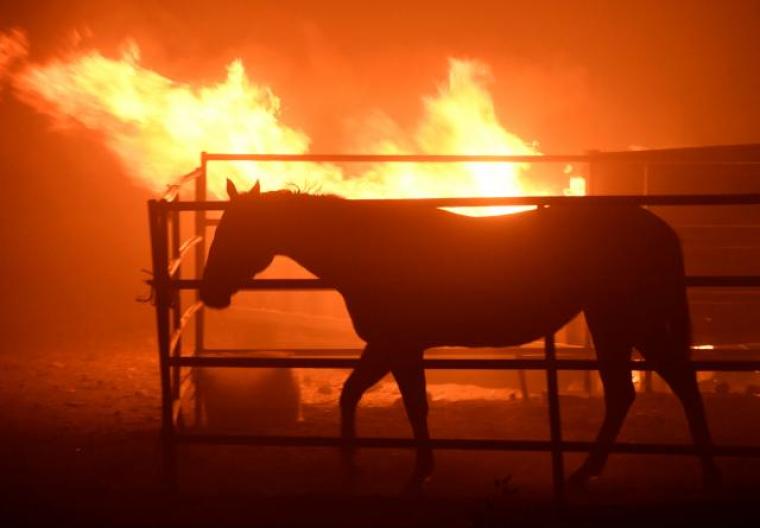 The Thomas Fire that burned 55,000-acre of land in Southern California, including Fillmore, Ojai, Oxnard, Santa Paula, and Ventura have forced evacuees to take shelter in evacuation centers.
According to reports, between 500 and 600 people took refuge at the Ventura County Fairgrounds by Tuesday evening, December 5, while about 250 people were forced to stay inside buildings or outside of their vehicles with their pets at the Red Cross shelter at Nordhoff High School in Ojai.
While the evacuation shelters provided the fire victims a temporary shelter, most of them have to contend with the absence of WiFi connection and a poor cellphone signal, making communication with their loved ones difficult.
Meanwhile, various charitable institutions have joined forces to help the fire victims with the United Way of Ventura County, American Red Cross of Ventura County and the Ventura County Sheriff's Office of Emergency Services all teaming up to create the Thomas Fire Fund. People who wish to donate can do so by sending a text message on United Way of Ventura County's website or over the phone at 805-485-6288.
Check donations can also be made with "Thomas Fire Fund" in the memo line and can be sent via mail to 702 County Square Drive, Suite 100 Ventura, CA 93003.
Those who wish to make donations in kind, though, can coordinate with the Salvation Army Ventura Corps. While any donation in kind is welcome, would-be donors are encouraged to give food and water for the evacuees. Monetary donations can also be made to the organization by visiting its website or by calling 1-800-SAL-ARMY. 
Donations of slightly used clothing, new toys and other Christmas gifts for the fire victims, on the other hand, can be channeled through the Catholic Charities organization. Any of the mentioned items can be dropped off at Catholic Charities' Ventura Community Services Center at 303 N. Ventura Ave. Ventura, CA 93001.
HSVC, meanwhile, takes care of the animals rescued from the fire. The organization has taken in more than 100 animals since the fire began and needs Alfalfa hay, Timothy hay, cat chow, and rabbit food apart from flashlights, headlamps, lanterns, water troughs, bottled water, fruit, snacks, hoses and power generators. Donations for this organization can be dropped off at 402 Bryant St. in Ojai.
LACACF is also asking for donations to supplement its disaster relief efforts through its Noah's Legacy Fund, which is used for providing supplies for training and buying equipment pieces for its rescuers who come to the aid of animals in times of disasters. Donations to LACACF can be mailed to P.O. Box 100515, Pasadena, CA 91189-0515 or through its website.
The Thomas Fire started in the foothills near the Thomas Aquinas College in Santa Paula at around 6:25 p.m. last December 4 and spread to more than 15 square miles hours after it began.