Vietnam Police Beat, Drag Priests by Their Hair for Defending Cross Erected on Disputed Land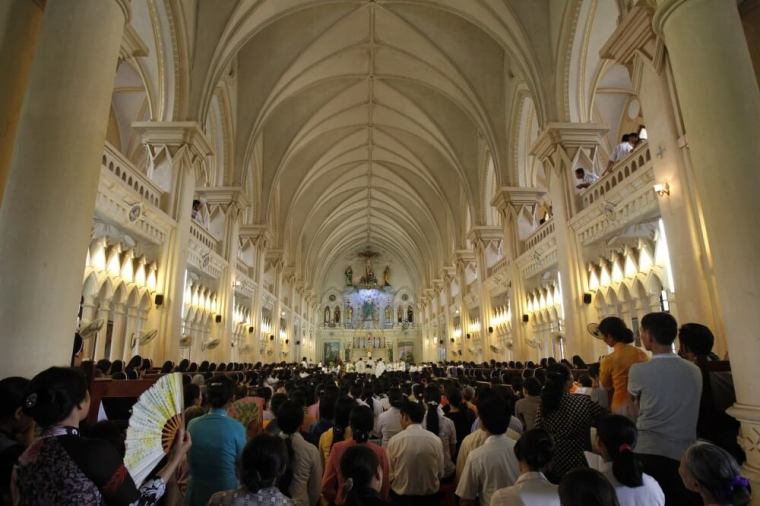 Police officers in Vietnam have reportedly assaulted a group of Catholic priests and parishioners who stood in defense of a cross erected on church-claimed land amid a property dispute.
Authorities in the nation's Thua Thien Hue province stormed the Thien An monastery in Hue at 8 a.m. last Wednesday to take down a cross, Radio Free Asia reported.
Thien An priest Khoa Cao Duc Loi told the media outlet that the attackers were not in uniform but recognized that many were local police officers. He explained that church members were there to protect the cross and took pictures as officers and the "woman and thugs" they were with approached to tear down the cross.
"They threw stones at the priests, and beat three or four of them," Loi explained. "They prevented us from putting it back, and priests held on to the cross while police tore at their shirts and dragged them by their hair."
Loi said he was confident that many who participated in the attack on the church were police officers.
"I could see the local police chief and his deputy. I also recognized some from the district and provincial police, though none of them were wearing uniforms," Loi said to Radio Free Asia. "I knew them because we had met with them several times before."
In all, two priests were reportedly injured due to the altercation and received black eyes. One of the priests was knocked unconscious, Loi added.
"We carried him home and tried to revive him at our church's clinic. He woke up but still has chest pains and a headache," Loi said. "We will take him to the hospital for a CT scan if he doesn't feel better."
Loi said the whole experience was "horrible."
According to Open Doors USA, it is not uncommon for Christian communities, such as the congregation at Thien An monastery, to "experience arrests and land-grabbing by the authorities."
Vietnam is among the worst persecutors of Christians in the world. Open Doors USA's 2017 World Watch List ranks Vietnam as the 17th worst nation in the world when it comes to the persecution of Christians.
Most recently, a Catholic blogger known as "Mother Mushroom" was sentenced to 10 years in prison last week on the charge of publishing propaganda against the government.
Nguyen Ngoc Nhu Quynh was sentenced by the People's Court of Khanh Hoa province.
"I am really surprised by the 10-year sentence that shows the government's inhumanity to a single young mother," Catholic lawyer Le Cong Dinh told ucanews.com. "I did not realize what a state of panic the ruling party is in."
According to the Catholic News Service, United Nations experts have said that the blogger's trial did not meet international standards and was likely an attempt to intimidate other activists.
"This was little short of a show trial, designed to intimidate other environmental activists," the experts were quoted as saying. "The trial did not meet international standards. She has been denied her fundamental right to due process."