'Vikings' Season 4 Premiere Date Set, To Be Split Into Two Parts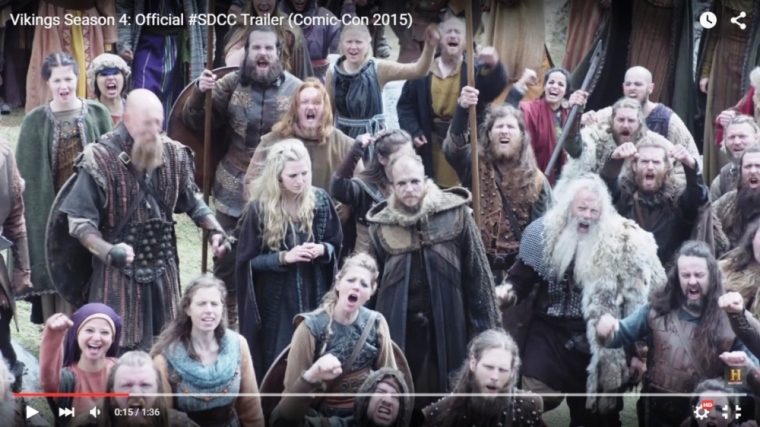 Irish-Canadian historical drama television series "Vikings" is going for one more round. To those who thought they would never see more episodes of the show again, television channel History has already announced that it will continuing the story in season 4.
The premiere date of the fourth installment has also been set already. According to Coming Soon, the hit drama starring Travis Fimmel will return on Thursday, Feb. 18 at 10 p.m. ET. Website TV.com noted that the series will kick off with a run of 10 straight episodes. But the season doesn't end there as it has been supersized into 20 episodes, adding four more to the initial 16. The other half of the season is set to air later in the year.
As seen on the official trailer released during Comic-Con 2015, "Vikings" season 4 is expected to be packed with blood and war. There's also going to be betrayal and loyalty, and of course, lots of unexpected twists of events for all the characters.
The season 4 synopsis found on Deadline wrote that the third season ended with the "extraordinary battle in Paris." Fimmel's character, Ragnar, won after almost being defeated but he returns to Kattegat seriously ill. His possible death prod the forces who seek to succeed him as king, including his wife Queen Aslaug (Alyssa Sutherland) and his oldest son, Bjorn (Alexander Ludwig).
Lagertha (Katheryn Winnick), on the other hand, will be having a power struggle with Kalf (Ben Robson), her former second-in-command. Rollo (Clive Standen) is also seen betraying his Vikings heritage by choosing to stay in Frankia. Lastly, Floki (Gustaf Skarsgard) is captured because of his brutal treatment of the Christian priest Athelstan (George Blagden).
Screen Crush noted that there will be new faces in the show. Joining in the cast is Peter Franzen from "The Gunman" and he will be playing as King Harold Finehair. According to the site, the character wants to become the King of Norway. He is also a danger to Ragnar. Jasper Pääkkönen and Dianne Doan will be joining as well and they will play as Halfdan the Black and Yidu respectively.