Virginia Pastor Stabbed Multiple Times by 'Grandson' in His Sleep Returns to the Pulpit; Says God Spared Him and His Wife
Virginia Pastor Stabbed Multiple Times by 'Grandson' in His Sleep Returns to the Pulpit; Says God Spared Him and His Wife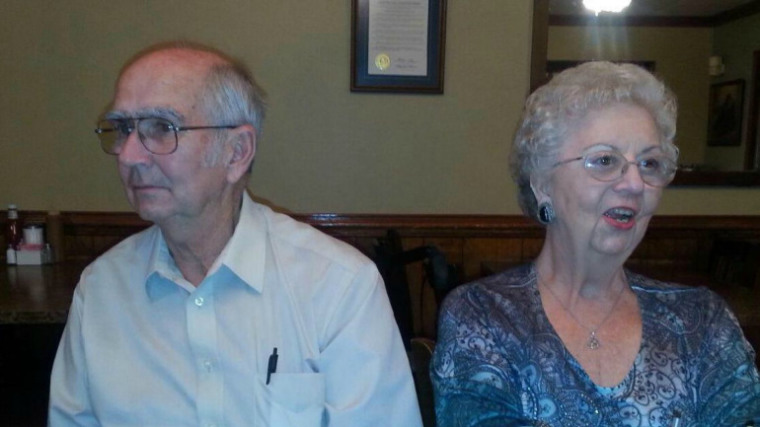 A Virginia pastor and his wife who were stabbed multiple times while asleep in bed by a man the couple reportedly treated like a grandson, have made a full recovery and the pastor is back in the pulpit preaching at his church.
Shiloh Baptist Pastor Hugh Mayes and wife, Carol, were attacked in their sleep by 21-year-old Maxim Lloyd Chisholm, a troubled man they had previously ministered to at their church and even let live with them for some time. After stabbing the couple back in June, Chisholm made off with $800 and their blue Ford Escape, according to authorities who found the couple still alive.
"God's grace has been good," said Mayes in his a sermon at Shiloh Baptist Church last Sunday, according to a WRIC report. "He spared us. Because I was stabbed right above the heart and she was stabbed right at her jugular, and we both survived."
"I didn't know he was in the house until I heard her screaming," he continued.
At the time of the stabbing, longtime Shiloh Baptist Church member Stacy Jernigan told the Times-Dispatch that the Mayes' loved Chisholm and even "called him their grandson."
Mayes described the decision to take Chisholm in during his recent sermon.
"He was homeless with only the clothes on his back. We kept him in a motel for a couple of weeks and I tried to get him help going through different agencies and so forth. Then we finally took him into our home," said Mayes.
After around six months he got hooked on drugs and tried to commit suicide, according to the pastor.
Even after the incident, Mayes is still praying that Chisholm can "get help."
Chisholm was taken into custody by police after a two-day manhunt in June. He was spotted in the car he stole from the Mayes by a Richmond patrol officer who contacted other law enforcement, according to a U.S. Marshal Service's spokesman.
Chisholm's court hearing was originally scheduled for Aug. 17, but was pushed back to Sept. 14. He faces two counts of attempted murder, one count of breaking and entering, one count of robbery, and one count of larceny of a motor vehicle which are all considered felonies.
While the Mayes were recovering, people from Shiloh Baptist raised more than $5,000 for the couple using a GoFundMe account. There will also be a Gospel benefit concert for them at the West End Baptist Church in Petersburg, Virginia, on Sept. 17.
"I never dreamed this many people would pay attention to what happened," said Mayes, while discussing the efforts made to raise money for him and his wife. "I feel more than blessed, every day is a gift."
The Christian Post contacted Shiloh Baptist for comment, but the church did not respond by press time.