Walter Scott's Christian Mom, Judy, is Praising God for Man Who Caught Son's Death on Video; Says He's God's 'Ram in the Bush'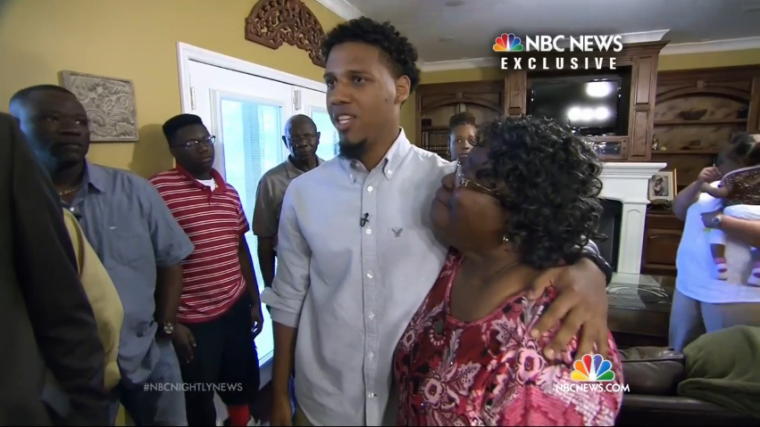 Judy Scott, the elderly Christian mother of 50-year-old father of four Walter Scott, shown being fatally shot in the back by South Carolina police officer Michael Slager in a now viral video, is praising God for 23-year-old witness Feidin Santana who captured video without which the truth about her son's death might have never been known.
On Saturday, April 4, The Post and Courier filed this report on Walter Scott's death.
A statement released by North Charleston police spokesman Spencer Pryor said a man ran on foot from the traffic stop and an officer deployed his department-issued Taser in an attempt to stop him.
That did not work, police said, and an altercation ensued as the men struggled over the device. Police allege that during the struggle the man gained control of the Taser and attempted to use it against the officer.
The officer then resorted to his service weapon and shot him, police alleged.
Santana, who recorded the incident with his cell phone, said when he saw that report on the news he knew he had to come forward with what he saw.
"It wasn't like that, the way they were saying," Santana told MSNBC. "I said, 'No ... this is not what happened.'"
He told NBC News that when he turned over the video to Scott's family, "they were very emotional when that happened, including me also."
In an interview with CNN's Anderson Cooper this week, Judy Scott was confident in praise and said God made Santana a witness like "the ram in the bush," referring to Genesis 22:13 in the Bible when, instead of allowing Abraham to sacrifice his son, Isaac, God provided "a ram caught in a thicket by his horns."
"He was there. God planned that. He was the ram in the bush. I truly believe that," said the faithful mother about Santana.
And the young witness agrees.
"I think she was right," he said. "God put me there for a reason."
On Thursday, Judy Scott and Santana came together in an emotional reunion recorded by NBC News, where she embraced him, thanked God, and spoke in tongues for her son's vindication.
"I mean, I'm supposed to be really angry and upset and raging and all that [about my son's death]. But I can't. Because of the love of God in me, I can't be like that," Judy Scott told CNN's Anderson Cooper this week.
"The Lord is my strength. [He's] helping me to hold out," she added, after he asked how she was doing.
"Knowing God as my personal savior," she explained, was the key to keeping her wits about her despite her loss.
When asked how she felt when she heard the initial report about her son's death, the Christian mother said it didn't sound right either.
"I knew that that was not true because he knows how, especially the North Charleston police, conduct themselves. He would never jeopardize his life," she said.
She explained that she couldn't bring herself to watch the entire tape of her son's death because it was too overwhelming for her.
"I couldn't really watch the whole tape. When I saw my son running and I saw the policeman behind him, I couldn't take it. I had to turn away. I couldn't handle it," she said.
"That was not right. The policeman is supposed to protect the people. Not try to frame them or get out of what they've done wrong. They're supposed to be honest people. Protecting us," she continued.
"I want them (people) to know that he [Walter Scott] was a loving son. A loving father. He cared about his family and I will, no matter what happens it will not replace my son."
Slager, 33, a white police officer, was charged with Scott's murder on Tuesday and Judy Scott believes God will allow him to get convicted.
"I believe God, with the policeman being arrested, he's got to get convicted. And I believe since God moved so fast. The God I serve is able. I know God will make a way. God will fix it," she said.