Was Robert Jeffress' Patriotic Worship Idolatry?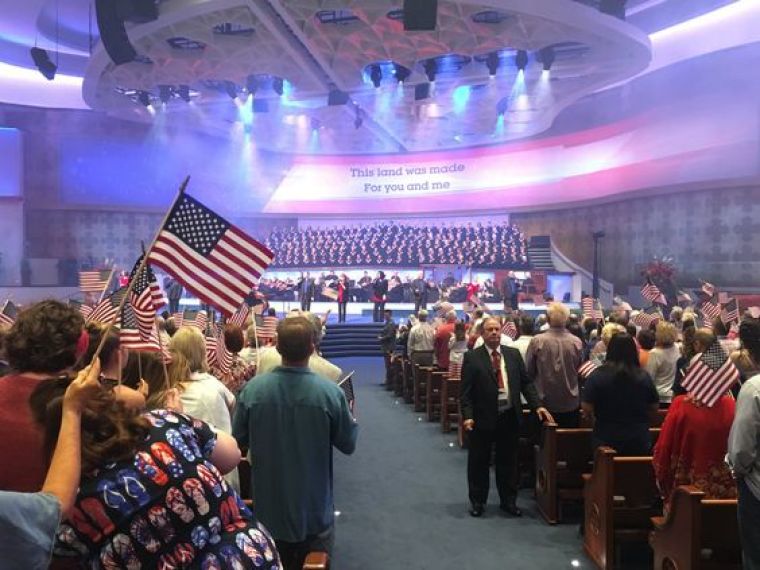 Several critics have denounced the "idolatry" of "Freedom Sunday" worship June 25 at First Baptist Church in Dallas, pastored by Robert Jeffress, who prominently campaigned for Donald Trump during last year's election.
The critics include Messiah College historian John Fea, a United Methodist pastor, and a Presbyterian church music minister. Click their respective links to read their perspectives, each of which is unique, but all are agreed in accusing First Baptist of "idolatry" for venerating America on "Freedom Sunday" a week before July 4.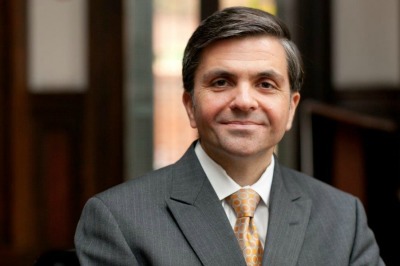 Watching the video of this service, I confess I cringed when fireworks were literally ignited on the church stage while the choir sang patriotic medleys. As a Methodist traditionalist, I am discomfited by movie screens in sanctuaries, much less the Broadway/Hollywood style of entertainment that seems to influence many megachurches. Personally I prefer liturgy, creeds, venerable hymns sung from hymnals, organ music, robed preachers behind pulpits, reverence and solemnity.
My own worship preferences likely place me in a minority among today's active Protestants in America. And my worship preferences admittedly are mostly subjective, shaped by my upbringing. But I also think there's a theological case for a form of worship that is in some continuity with the universal church across time and culture. Yet the megachurches whose flashy style is not my preference no doubt also proclaim the Gospel to millions who would not heed traditional worship.
Worship style for Protestants is debatable. The seriousness of idolatry is not. This allegation against First Baptist by several critics cited literal American flag waving by worshippers, patriotic music, including military service songs and the National Anthem's first stanza, that don't mention God, an armed military honor guard presenting the colors, and asking military veterans to stand during their respective service songs.
Per the singing of "God Bless America," the Presbyterian music director sarcastically blogged: "What better anthem to begin patriotic worship than Jewish/agnostic American composer Irving Berlin's tribute to that good ol' unnamed, generic American pseudo-deity?" Julia Ward Howe was a Unitarian, but her "Battle Hymn of the Republic" about Christ's return appears in the United Methodist Hymnal, among many others, and deservedly so. No doubt other hymn writers are less than personally orthodox, yet their hymns point to God with language in sync with Christian orthodoxy.
More dubious than "God Bless America" in worship are songs that were featured at First Baptist like "It's a Grand Old Flag" and "This Is My Country," which are stirring music for civic pageants but don't point to God. On Sundays close to national holidays, hymns like "America (My Country Tis of Thee)" and "America the Beautiful," which appear in several denominational hymnals, seem more appropriate thanks to their divine references. "I Vow to Thee My Country" is a beautiful English hymn describing duel loyalties to earthly kingdoms and God's Kingdom that deserves more American usage.
Per the armed honor guard that presented the colors at First Baptist, it seems in my view likely inappropriate for worship, since it has no traditional role in Christian liturgy, although fine for military funerals or civic events held in churches. Pacifists of course object to any presence of weapons or military regalia in a sanctuary. But mainstream Christianity affirms the military, wielding the sword for legitimate government, and rightly deployed, as God-ordained.
As to recognizing veterans during worship, they are surely no less worthy than graduating students or many many others who are marking life passages, like birthdays, who often receive acknowledgement and applause in less formal Protestant worship.
And the flag waving by worshippers at First Baptist? It's not my own preference for worship, but was it idolatrous? If so, the thousands of Egyptian Catholics who with their priests and bishops recently greeted Pope Francis at an outdoor mass by waving Egyptian flags must have been idolaters.
There are some on the Christian Left, especially Neo-Anabaptists, who reject any acknowledgement of nation in church, denouncing even the quiet presence of a flag against the wall as idolatrous. But if July 4 is taboo in church, then so too should be citations of Mother's Day, scouting, Labor Day, Earth Day, college and high school graduations, retirements, homecomings or MLK Day. All of these celebrations are potentially distracting from the Gospel and therefore possibly idolatrous.
But churches around the world are rooted in local cultures. Usually and rightly they acknowledge and celebrate important moments in their communities as events meriting thanks to God. Celebrations in worship only become potentially idolatrous if they are made sacred apart from divine grace.
Nonsacred music and other celebrations by churches are best hosted outside of worship. Years ago on a Sunday afternoon before July 4, I attended a wonderful church concert after worship with Baptist and Episcopal choirs jointly performing Randall Thompson's The Testament of Freedom, which are Thomas Jefferson's words set to music, along with Aaron Copland's Lincoln Portrait. It was moving and uplifting for the season, and it rightly didn't belong in worship.
Some of the patriotic hoopla at First Baptist in Dallas last Sunday gave the appearance of celebrating America without reference to God, which surely was not the intent. A more generous critique might fault the aesthetic without automatically assuming idolatry.
More constructively, such critiques might describe how better in church to thank God for the gift of nation, emphasizing that He is the source of all goodness and greatness, on July 4, and all the time.
Originally posted at Juicy Ecumenism. 
Mark Tooley became president of the Institute on Religion and Democracy (IRD) in 2009. He joined IRD in 1994 to found its United Methodist committee (UMAction). He is also editor of IRD's foreign policy and national security journal, Providence. Follow Mark on Twitter
@markdtooley
.