'Wayward Pines' Season 2 Premiere Date To Fall Sometime Summer 2016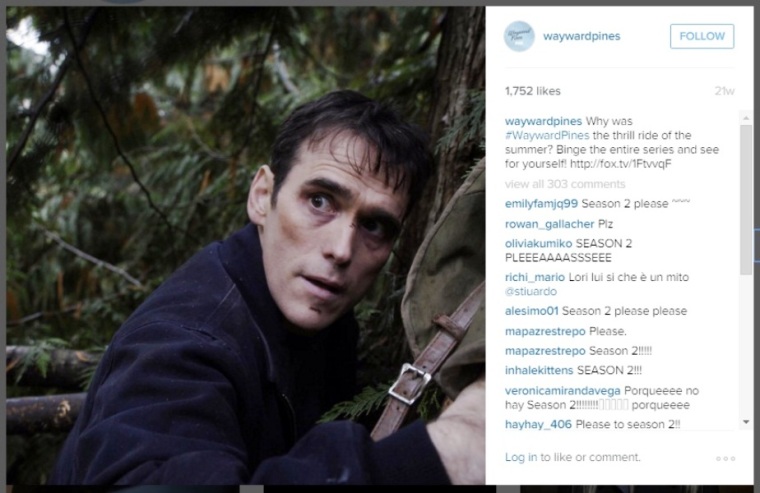 "Wayward Pines" season 2 has already been given the green light and is now slated to air in summer of 2016.
Fox Broadcasting Company has announced that "Wayward Pines" season 2 will not be canceled because of its good ratings in the previous installment. The network's President of Entertainment David Madden raved about the performance of the series and hailed M. Night Shyamalan for the excellent story, according to BREATHEcast.
"'Wayward Pines' was a huge hit for us this past summer," said Madden of the Fox series. "We were absolutely blown away by the mysterious and surprising world that Night and his team created, and the twisting-and-turning storytelling that drew viewers in from day one."
The show earned a 7.8/10 score from IMDb and 86/100 from Rotten Tomatoes. It turned out to be the top scripted broadcast series among viewers 18 to 49 years old. The show also raked in an average of 9.4 million viewers in its freshman season, Christian Today reports.
Regarding what to expect in "Wayward Pines" season 2, Madden revealed that the series will amp up its suspense levels. The season will also feature 10 new episodes and the story will continue from where the first season left off, the report details.
The residents of Wayward Pines will start to fight over how they can preserve their endangered race. The upcoming season will also feature a rebellion, the report relays.
Meanwhile, executive producer Chad Hodge will reportedly not return for the next installment. Plus, season 2 will feature new cast members playing the same set of characters in the same setting.
Shyamalan will still be part of season 2 and will be the show's executive producer. Donald De Line, Mark Friedman, Black Crouch, and Ashwin Rajan will also produce the series.
The exact release date of "Wayward Pines" season 2 still has not been announced. Fox is expected to release more details about the upcoming series in the next few months.