Welsh Secretary Warns Gay Couples Cannot Provide Safe Environment for Children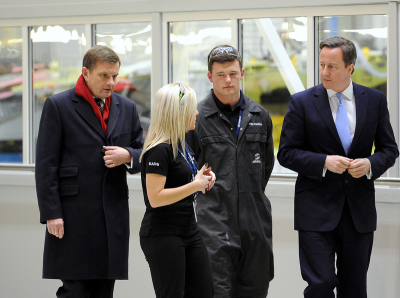 A prominent U.K. cabinet minister has said that gay couples cannot provide a "warm and safe environment" in which to raise children, voicing his opposition to the recent parliament vote that went in favor of same-sex marriage.
"I regard marriage as an institution that has developed over many centuries, essentially for the provision of a warm and safe environment for the upbringing of children, which is clearly something that two same-sex partners can't do," said Welsh secretary David Jones, according to ITV. The Conservative MP insisted, however, that he is not homophobic and that he has "people in my life who are important to me who are gay".
Jones' comments come less than two weeks after a major vote on plans to change the traditional definition of marriage as between one man and one woman in the U.K. by 2015. MPs overwhelmingly supported the change by a 400-175 vote, with nearly half of conservatives voting in favor of same-sex marriage – inspired by Prime Minister David Cameron, the leader of the Conservative Party, who has been on the forefront of advocating for same-sex marriage.
Labour, the oppositional party, protested against Jones' comments, however, saying that they show that "the nasty party is alive and well."
"That such views exist in the heart of the Tory cabinet provides yet more evidence of how out of touch the Tories are with modern Britain, and how David Cameron's claim to have changed his party is, like so many of his promises, nothing more than empty words," opposition Welsh secretary Owen Smith of the Labour party said.
"David Jones' comments are profoundly offensive and he should apologize immediately."
Jones has said that he believes that constituents were "overwhelmingly opposed" to the divisive government plans to allow same-sex couples the same marriage rights as heterosexual couples. Both the Anglican Communion and the Roman Catholic Church in the U.K. have spoken out against those plans as well, arguing that it is not the government's place to redefine marriage for society.
After his comments, Jones clarified in a follow-up interview, that he approves of same-sex civil partnerships, but since gay couples cannot biologically conceive children, marriage should be reserved only for heterosexual couples.
"I made the point of stressing that I was fully supportive of committed same-sex relationships. I also strongly approve of civil partnerships," Jones clarified.
"I did not say in the interview that same-sex partners should not adopt children and that is not my view," he continued. "I simply sought to point out that, since same-sex partners could not biologically procreate children, the institution of marriage was one that, in my opinion, should be reserved to opposite sex partners."
Before the same-sex marriage vote in December, close to a quarter of all the Catholic priests in England, 1,054 in number, signed an open letter warning of the severe social and legal consequences of enacting gay marriage laws, such as a resurgence of "persecution" against Roman Catholics.
"We believe that redefining marriage to include same-sex relationships will entail a dilution in the meaning of marriage for everyone by excluding the fundamental complementarity of men and women from the social and legal definition of marriage," the Catholic priests warned.