'We're Getting Close to a Military Conflict' With North Korea, Sen. Graham Says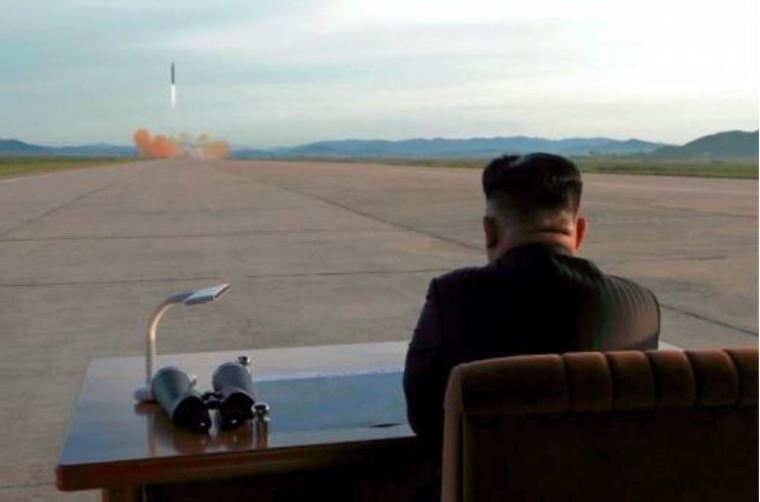 Republican Sen. Lindsey Graham has warned that the United States is "getting close to a military conflict" with North Korea, which has developed an intercontinental ballistic missile capable of reaching the U.S. with a nuclear warhead. The White House national security adviser called the recluse communist nation "the greatest immediate threat to the United States."
"We're getting close to a military conflict because North Korea's marching toward marrying up the technology of an I.C.B.M. [intercontinental ballistic missile] with a nuclear weapon on top that cannot only get to America but deliver the weapon," Lindsay said in an interview with CBS News.
"We're running out of time," he continued. "I'm going to urge the Pentagon not to send any more dependents to South Korea. South Korea should be an unaccompanied tour. It's crazy to send spouses and children to South Korea, given the provocation of North Korea. So I want them to stop sending dependents. And I think it's now time to start moving American dependents out of South Korea."
In July, North Korea claimed a successful test of an intercontinental ballistic missile to show its ability to strike the United States, following which, Trump issued a statement, saying, "By threatening the world, these weapons and tests further isolate North Korea, weaken its economy, and deprive its people. The United States will take all necessary steps to ensure the security of the American homeland and protect our allies in the region."
Asked how close a possible war could be, Graham told CBS News that the intelligence would know that better, but added that the policy of the Trump administration is "to deny North Korea the capability to hit America with a nuclear-tipped missile."
"Not to contain it. Denial means preemptive war as a last resort," he underlined. "That preemption is becoming more likely as their technology matures," he explained. "Every missile test, every underground test of a nuclear weapon, means the marriage is more likely. I think we're really running out of time."
Graham said China has been ineffective in stopping North Korea from testing missiles. "If there's an underground nuclear test, then you need to get ready for a very serious response by the United States."
He added that President Trump has "the best national security team of anybody I've seen since I've been in Washington."
"Everybody before President Trump screwed it up, including Republicans," Graham continued. "Now we need to get it right. And I think he's got the right approach. He's got the right team. I hope China will help us. We're running out of time."
White House national security adviser H.R. McMaster said at the Reagan National Defense Forum in Simi Valley, California, that the potential for war with the communist nation is growing each day.
"I think it's increasing every day, which means that we are in a race, really, we are in a race to be able to solve this problem," McMaster said, according to CNN. "We're asking China not to do us or anybody else a favor. We're asking China to act in China's interest, as they should, and we believe increasingly that it's in China's urgent interest to do more."
He went on to say that China had a reason to take unilateral action to cut off North Korean oil imports.
"You can't shoot a missile without fuel," he said, adding both he and Trump felt that total oil embargo would "be appropriate at this point."
The U.N. Security Council recently slapped new sanctions on North Korea over its nuclear weapons program, restricting that country's exports of coal, iron, iron ore, lead, lead ore and seafood as well as limits on the number of North Koreans permitted to work abroad. The sanctions also restrict countries from entering into new joint ventures with North Korea or investing in current ones. Further, the resolution added North Korea's primary foreign exchange bank and other entities as well as nine people to the U.N. blacklist.