White Evangelicals and Immigration Reform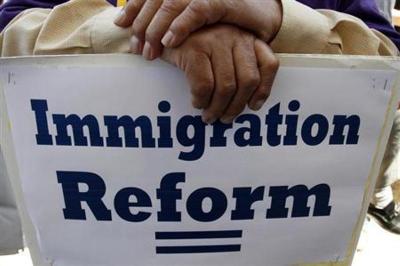 In our continuing and in-depth analysis of public opinion data on religion and immigration attitudes we have found that white evangelicals have been, and continue to be, the most opposed to immigration reform among religious groups.This finding has been present consistently over the past twenty years in dozens of surveys from polling organizations including the Pew Research Center, the Public Religion Research Institute (PRRI), the General Social Surveys, and the American National Election Studies.
This strong opposition among evangelical laity has persisted despite the pro-reform advocacy efforts of numerous evangelical organizations and leaders. Evangelical advocacy began to develop during the Bush Administration's push for comprehensive immigration reform back in 2006-07. Today a much broader coalition of evangelical groups continues to deepen and expand this advocacy under the auspices of the Evangelical Immigration Table (EIT), formed in June 2012. There are minor hints of change — a recent study concludes that the informational campaigns by EIT in some states have contributed to marginal gains in support for immigration reform by white evangelicals. Overall, however, white evangelicals remain the religious group most opposed to immigration reform.
Part of the problem is that the expansive efforts of evangelical elites on immigration have not been matched by increased teaching and preaching on immigration by evangelical clergy. Evidence from 2010 and 2013 surveys from Pew and PRRI shows that evangelical laity perceive that less than one in six of their clergy ever openly discusses the subject of immigration in the church. When they do speak about reform, and speak favorably, attitudes toward the immigrant and immigration policy shift in a more supportive direction. But given the dearth of such messages, immigration policy attitudes are derived mostly from other sources.
What are these sources, and which of them are the most important? We have attempted to pinpoint the significant factors in extensive multivariate statistical analysis. First of all, religious beliefs and practices have only a modest impact, with Biblical literalists most opposed and regular church goers most favorable to reform. In addition, high levels of education are associated with more favorable attitudes toward reform as is having at least one parent born abroad. In no surprise, consumers of conservative media are opposed to "liberal" policy changes (the Fox News effect), as are those who perceive that national economic conditions are bad.
But two factors dwarf the above in terms of importance: attitudes toward Hispanics and illegal immigrants, as well as the political preferences of individual evangelicals. Conservative issue positions and Republican Party identifications are the norm for evangelicals, and the stronger these positions are held, the greater the opposition to immigration reform. These partisan and ideological proclivities suggest that the attitudes of rank and file evangelicals are unlikely to change unless Republicans in Congress do an "about face" and support immigration changes that at least allow undocumented immigrants to gain legal status, whether permanent or temporary. Of course even such an "about face" does not guarantee attitude change by the laity.
Although the national political context cannot be altered easily, evangelical attitudes toward Hispanics and illegal immigrants could be. And for those wishing to do so, the church can play a significant role, continuing the efforts of many congregations to assist immigrants to assimilate, as well as encouraging substantial interactions between immigrants and citizens overall. But, it may be even more important to help congregations see the moral components of the immigration issue—honoring the Biblical values of "welcoming the stranger," keeping families together, considering the justice implications of migration nationally and globally, and acknowledging the conditions in other societies that lead to immigration in the first place. Clergy have done this historically with issues like race, abortion, marriage, and poverty. There is no reason why it can't be done with immigration. Wise leadership at the congregational level can, over time, minimize evangelical opposition to immigrants and promote the pursuit of just, reasonable, and merciful immigration reform.
Lyman A. Kellstedt is emeritus professor of political science at Wheaton College. Ruth Melkonian-Hoover is associate professor of political science at Gordon College.