White Police Commissioner Says He Won't Apologize for Calling President Obama Expletive Laced N-Word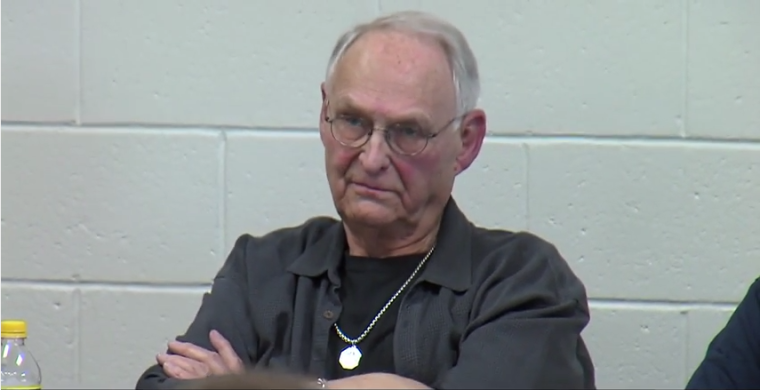 A white police commissioner of a predominantly white but small New Hampshire town is under fire for refusing to apologize for calling President Barack Obama a "f**king n***er" because he thinks he meets and exceeds the definition of the racial slur.
At a town meeting Thursday, a clip of which was posted on YouTube, angry residents of Wolfeboro called for the resignation of 82-year-old Police Commissioner Robert Copeland, who acknowledged that he used the racial slur to describe Obama, according to the Associated Press.
Jane O'Toole, who has been living in Wolfeboro for the last four months, said she overheard Copeland use the slur at a public restaurant and complained about it in a letter to the town manager in March.
"I was in a restaurant in downtown Wolfeboro, a gentleman asked Mr. Copeland if he watched the TV show Chronicle and he said, 'No, I don't watch TV because every time I turn it on, all I have to see is that f**king n***er,'" said O'Toole recalling the incident.
Copeland, however, acknowledged and stood by his comments about Obama in a defiant email.
"I believe I did use the 'N' word in reference to the current occupant of the White House," Copeland wrote in an email to his fellow police commissioners, part of which was forwarded to O'Toole. "For this, I do not apologize -- he meets and exceeds my criteria for such."
Of the 6,300 people who live in Wolfeboro, only 12 are black and none of the 12 full-time officers with the town police are from a minority group.
Copeland is a part of the three-member police commission which hires, fires, disciplines and set the salaries of police officers. He also just started a three-year term in his current office on March 11 for which he had run unopposed.
Town Manager David Owen said he thinks Copeland's comment is "reprehensible," but he and the board of selectmen have no power to remove an elected official.
At the town meeting, where more than 100 people packed a room at the Wolfeboro Public Library, librarian Joyce Davis said she could not recall and an issue that has sparked so much emotion and outcry in the last 40 years.
"Comments like these, especially coming from a public official, are not only inexcusable but also terribly, unfortunately, reflects poorly on our town," said O'Toole, to applause at the meeting.
Resident Frank Bader mocked those protesting the comment made by Copeland.
"All this man did was express his displeasure with the man who's in office," he said.