Why Are the Social Sciences So Secular?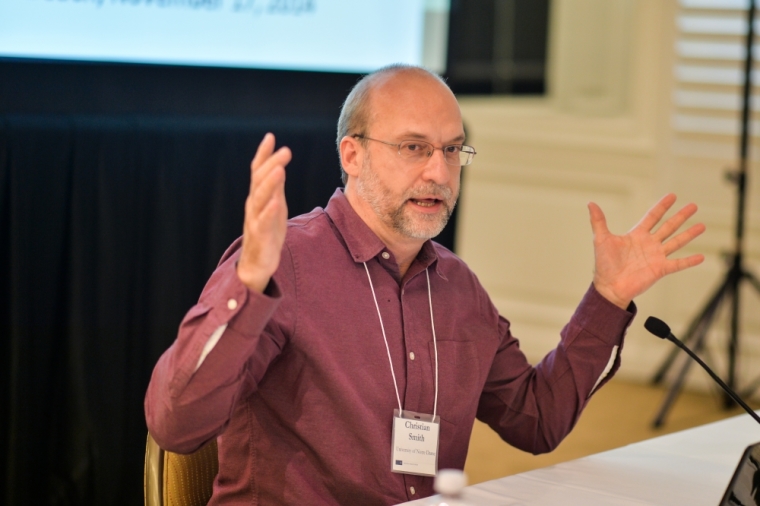 MIAMI BEACH — For multiple and complex reasons, professors in American college and university social science departments are much less religious than the population, sociologist Christian Smith explained Monday.
Religious people are both less likely to become social scientists and religious social scientists are more likely to be kept out of academia, he said at the Ethics and Public Policy Center's Faith Angle Forum in response to a question from The Christian Post.
Smith, William R. Kenan Jr. professor of sociology and director of the Center for the Study of Religion and Society at the University of Notre Dame, was delivering a talk called "Why Social Scientists (and Some Journalists) Don't 'Get' Religion." (Audio of the full conference is available on the EPPC website.)
Some religious people are simply not attracted to an academic career as a social scientist, Smith believes.
"A fundamentalist-leaning Evangelical Protestant is not going to take a sociology class and say, 'this is what I want to do,'" he said. "It's just not going to resonate with their sort of vision of things. So they will select themselves out."
Additionally, religious people who do become social scientists may have difficulties on the job market. This can happen, Smith added, through "all sorts of processes along the way."
"People like being around people who are like them," he said. "There are processes of selecting out strange religious people out of academia, departments and so on. That can be blatant, it could be very subtle."
There can be some exceptions, Smith clarified. For instance, "if somebody is a good Mainline Protestant and keep it to themselves, et cetera, it's no problem. ... Or, if someone is the token Muslim scholar and they are Muslim. As long as it doesn't cross certain lines."
Smith noted that a program was started at Notre Dame in the 1990s to try and get more Evangelicals into careers in higher education. It was originally called The Evangelical Scholarship Initiative, but the name had to be changed because having the word "Evangelical" on the CVs of the program's participants hurt their prospects on the job market.
He recalled that a sociologist, upon seeing the word "Evangelical" on his CV, once remarked, "do you believe in creationism?"
There are more religious people in social science departments than there were 30 years ago, Smith added, "but the kind of dynamics I'm describing are deep, long term and powerful."
Smith's research has mostly focused on religion. He is the author of many books, including, American Evangelicalism: Embattled and Thriving (1998), Christian America?: What Evangelicals Really Want (2000), The Sacred Project of American Sociology (2014), and most recently (with Hilary Davidson), The Paradox of Generosity: Giving We Receive, Grasping We Lose (2014).