'Why I Hate Religion, But Love Jesus' Poet Jefferson Bethke Talks Jesus, Religion
Jefferson Bethke's "Why I Hate Religion, But Love Jesus" YouTube sensation has garnered over 15 million views and thousands of comments since its Jan. 10 release. In a tell-all interview with The Christian Post, Bethke shares his views on religion, the controversy surrounding his video, and changes he wish he could make to his message, now gone viral.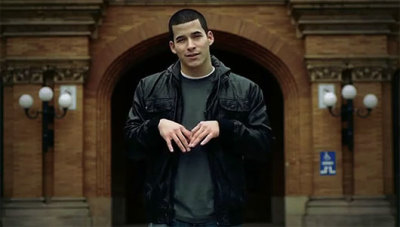 The 22-year-old shared that this video was "not as big as it looked" – that it was the collaborative product of his poetry and a friend's video production skills. However, the emotion behind "Why I Hate Religion, But Love Jesus" was Scripture-based, he told CP.
"My heart behind the video and the lyrics really has to do with just reading the Scripture and seeing a staunch juxtaposition that Jesus would always do in regards to highlighting people who are only about the external not the internal," Bethke said.
The viral video was born from readings that showed that the people Jesus was most opposed to in his time were those that everyone else looked to as closest to God, he stated. "This just made me think – 'Hey is that going on today?'"
The popular video, called "unhelpful and misleading" by some watchers, showcases what Bethke says was his "journey to discover this truth – the difference between Jesus and false religion."
One critic in particular who found Bethke's presentation troubling was Pastor Kevin DeYoung. The Michigan pastor offered a verse-by-verse critique of the video – something that Bethke said he appreciated, admitting that "it hit me hard," but that he agreed with DeYoung's assessment. 
Bethke, a member of Mars Hill Church (Federal Way) in St. Auburn, Wash., told CP that Mark Driscoll, pastor of the main Mars Hill campus in Seattle, and Tim Keller of Redeemer Church, have also described "religion" as: "a short-hand that is synonymous with legalism, hypocrisy, and self-justification, which has nothing to with the institution."
"It has nothing to do with the actual church," Bethke stated. "It's a synonym used for Pharisee-type legalistic, self-righteous people that are opposed to the church and opposed to Christianity. So that's my definition of [false religion]."
Regarding organized religion, studies have found, and church leaders have observed, that many of today's young Christians appear to be pushing it away – a seeming trend with which Bethke says he is playing "a difficult middle game."
The 22-year-old shared that he was in the camp of young Christians pushing the church away. He recalled watching a panel discussion of well-respected theologians and pastors and one question really struck a chord. The group was asked about the most encouraging and discouraging aspect of the millennial generation – responding, that the most encouraging is that "they love Jesus more passionately, more furiously" than previous generations. However, in that same aspect the "most discouraging is that they hate the church more passionately and more furiously."
"Right when I heard that, it just convicted me and God used it as one of those Spirit moments where it's just 'man he's right,'" Bethke told CP. "I realized a lot of my views and treatments of the church were not Scripture-based, they were very experienced-based."
He added, "And that's when I realized that wasn't right. God's church is holy, that's his bride."
"I want to separate myself from the group of people who say, 'I love Jesus, but I hate his church,' he said. "I accidentally got put in that group, but that happens when you preach radical, free juxtaposed and self-righteousness grace and Jesus."
"Did I maybe get placed there a bit through this video? Yes, but not nearly as much as I'm getting accused of," he relayed. "I've gotten a handful of criticisms, but hundreds of responses saying, 'Man, I've went back to the church. It's a hospital for the broken. I went back, thank you praise God.' " According to Bethke, it has been really humbling to receive such feedback.
The Washington resident says he wants to separate from groups that distance themselves from church, because the Church is Christ's body. "It's really cool for my generation to say 'I love Jesus, but Hate the Church' but that's not honoring God, because the church is His number one."
"The church is 'plan A,' there is no plan B," Bethke said. "Saying you love Jesus, but hate the church is like you're about to get married and [tell that person], 'I love you, but hate your kid.' "
He added, "The church is messy, the church fails, but we are all covered by grace. We are all covered by the blood and that's our invitation. We're saying, 'world, we're not perfect, but we know a perfect God and we want you to know him as well.' "
According to Bethke, his main message to young Christians struggling with feelings of distrust and hate for the church is to not let events of the past "blind or block your view of what the church is saying."
"Don't listen to what society is saying," he advised. "The ultimate authority is the word of God and we have to submit ourselves to that. Return to the Scripture and trust that God knows best.
"There are a lot of times we put the Bible below us and say, 'Okay I'm going to listen to it, I'm going to read it, but its below me so I have [the] ultimate say.' We don't realize the arrogance of that statement – to say 'we know better than God.' 
"So we need to elevate the Scriptures, put them back where they belong, see the word of God as the ultimate authority and say 'God this might not sound politically correct to me, but I trust that you're after my joy.'"
The Tacoma, Wash. resident told CP he had expected "Why I Hate Religion, But Love Jesus" to get only a few thousand views. However, the video may have struck a chord that he was not ready to strike – regarding 20 years of pent up generational separation. Regardless, the answer to whether he would change something if he had it to do over is "yes and no."
"Yes, my desire to maybe change or be more airtight or elaborate on some points. I don't want people to ever close their ears to the message I'm trying to portray of Jesus just because I used some type of strategy," Bethke said. "But on the flipside, I also say no because I think that helped me do what it did."
"It's a double-edged sword. If I were to use those words that I said were synonymous with religion instead, I don't think it would have done what it did."
Bethke, a self-described "messed up dude addicted to grace," says he is just trying to make Jesus famous. "Theologically I think that's what we're created for – we're created to find joy. I think St. Augustine said it: 'You cannot find rest, you cannot find joy until you find your joy and rest in Jesus. And we're restless and joyless until then.'"
"I have found that to be true and it is now the thing that sparks my entire heart," he confessed. "When you make Him famous and make that the pursuit of your life, you find joy and bring glory to God. That's what we were created for."
According to Bethke, there is no need to defend the word of God. "Its like saying you need to defend a lion. You don't, you just unlock the cage. That's essentially what I try to do. I just unlock the cage."
In regards to the criticism and praise "Why I Hate Religion, But Love Jesus" has received, the 22-year-old says he does not especially read either – that both "are dangerous and can be turned into some type of idolatry."
"You can either become a slave to the fear of man or critique of man or you can be a slave to the praise of man," Bethke stated. "And I don't want to be a slave to either. I want to be a slave to Jesus."
However, he insisted that no person can critique or show him how "wrong or how much he deserves death" more than the cross. And in the same sense, nothing can show his worth or the extent to which he is "treasured" more than the cross does.
"It's a double-edged sword in a beautiful way," Bethke said. "And its really encouraging when that starts to penetrate the heart."
The video "Why I Hate Religion, But Love Jesus" can be seen below: