Why Is Hollywood Obsessed with Making Christian Movies?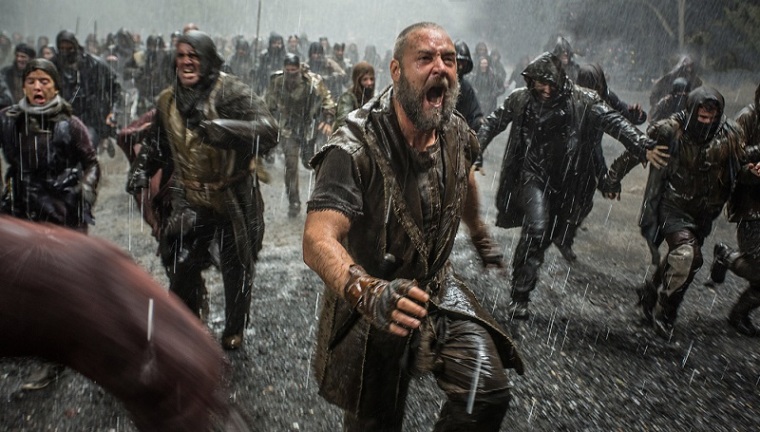 In light of blockbuster films such as "Noah" and the upcoming "Exodus," many Christians are wondering what is causing the upsurge in Hollywood films featuring Biblical content today.
Within the past year, the Bible has been interpreted several times on both the big screen as well as television. In addition to the aforementioned "Noah" and "Exodus," "Left Behind" starring Nicolas Cage will reach theaters Oct. 3, while HBO recently added "The Leftovers," a series loosely based on the rapture, to its network. The list of faith-based entertainment made by non-Christians seems to be growing longer with each passing year.
This week, The Christian Post spoke with three different Hollywood insiders about the amount of Scripture found in secular entertainment of late, asking for their thoughts on the possible reasons behind the uptick. First, actress Alexa PenaVega drew attention to the violence and uncertainty in today's state of affairs. The "Sin City: A Dame to Kill For" star said more and more people are now looking to the Bible for answers.
"If you look at what's going on in our world lately, people have been really searching for something to hold on to," the star told CP. "When things get tough, you turn to entertainment make things easier. Nowadays, people are looking for new outlets in their life, whether it's all sorts of different religions or new therapy thing or new book. I feel like those fads are going away, and people are actually interested in what is written in the Bible. That really caused a surge in all these Biblical TV shows and films."
Also speaking on the subject of Christian content in mainstream television and film was president of Walden Media Michael Flaherty, who said that audiences will always be drawn to Biblical themes because of an inherent love of God, as described in Psalm 139.
"All kinds of great entertainment have that draw because we all want to be part of God's story, part of a much bigger story than we realize; it's transcendent," he said. "It appeals to us far more than anything that lacks that theme."
Walden Media produces films that are entertaining while also life affirming and providing a moral message. Flaherty explained the production company's success by comparing it to entertainment provided by the band U2 as well as films "Les Miserables" and "The Giver" that each carry messages from Scripture.
"Each one is the perfect culmination that works on multiple levels," he told CP.
Offering another point of view, Los Angeles-based director and screenwriter Chris Dowling cited the business aspect of producing faith-friendly films.
"It's been this way: [major studios] see that the faith crowd comes out and supports things," Dowling told CP. "And to me, Christian films are almost like the new genre picture. Back in the day, studios would have a million to two million dollars to take a chance on something - on a horror film, now its faith stuff because the market will eat it up."
Dowling worked with PenaVega on the upcoming film "The Remaining," which is based on Revelation 8-9. The writer added that drawing Christians to the theater brings in money while also spreading the Word of God.
"They are business moves," the director continued. "I think it's awesome; if God can work through business moves, then let's rock and roll. As long as the faith crowd comes out and supports it."
PenaVega echoed Dowling's observation, but also illustrated the positive results of Biblical content making more frequent appearances in big-budget projects.
"Obviously Hollywood is trying to capitalize on something, but I don't care, as long as it is making movies about the Bible," the actress told CP.
However, there are disadvantages to having a plethora of Biblical translations in Hollywood. All too often, people of faith watch a film and are disappointed, if not angered, by what is portrayed onscreen. Offering her own reaction to Darren Aronofsky's "Noah," PenaVega pointed out the dangers of loose translations.
"I mean if you watch 'Noah,' I didn't realize there were transformers in the Bible," she joked. "You do have to be careful. It's frustrating, because for people who don't know the Bible, I'm sure they thought those were in it. It's tough, on one hand I am super supportive, but at same time I want to protect it, make sure it's being done right. Films don't have to be corny, but they do need to be authentic to what is written."
"The Remaining" hits theaters Sept. 5. For more news on upcoming faith-friendly films, stay tuned to The Christian Post.