Will Los Angeles-Area Churches Be 'Swallowed Whole' When Hillsong Arrives?
Fears That Australia Megachurch's Plans for Southern California Could Crush Existing Ministries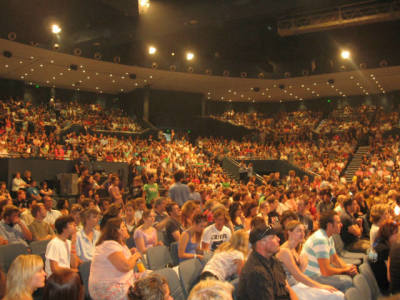 Despite assurances from Ben Houston that the Hillsong LA church he feels called to plant in Southern California will not "build on anyone else's foundation," some observers are concerned that the popular Australian megachurch's expansion to the Golden State could mean a substantial loss of members for already-established churches in the area.
Hillsong Church founder and Senior Pastor Brian Houston shared in a blog post earlier this month, after making the announcement during weekend services, that his son, Ben, would be moving with his wife and three daughters at some point to begin tilling the ground for a new church plant. The ministry's only U.S. congregation is in NYC, led by Pastors Carl Lentz and Joel Houston, the the founding pastor's other son.
"I know there are a lot of questions out there after the announcement, but the truth is we don't really have the answers yet!" wrote Ben Houston in an update on the church startup. "We are still in the very early stages of planning. There is a stack of paperwork and immigration issues to sort through; and a lot to wrap up here in Sydney before we embark on this incredible journey."
Among the few questions left in response to Houston's update was one from a visitor named Jenna Thompson, who voiced concerns about the potential negative effects of a Hillsong Church in Los Angeles.
"There are plenty of churches in the Orange and Los Angeles Counties that will be swallowed whole when Hillsong LA arrives," she wrote. "There are jobs that will be lost and pastors who will see their congregations dwindle. There are also plenty of larger churches as well [whose] pastors have spoken at your conferences, supported your endeavors and welcomed your church's presence as a visit from overseas, all who will now see you as an unwanted threat."
She added, "Even though there is plenty of praise being shouted your way and your intentions may be noble, is Hillsong Church ready for the backlash of this decision? Like the venture in NYC, how is this not just capitalizing on the popularity of Hillsong in the United States?"
Hillsong NYC officially launched in Feb. 2011 and currently welcomes about 5,500 worshippers to Sunday services. In addition to New York City Millennials making up much of that number, many high-profile figures and celebrities have been affiliated with the church.
Acknowledging the "amazing churches and ministries" and "world-class leaders, pastors, preachers, and friends" in Southern California, Houston insisted that he still could not shake the stirring in his heart that God has been calling him to "step out" and make the move.
"I don't believe I (or Hillsong) has all the answers (sic). But I do trust Him with all of my heart. And I am naïve enough to believe that if He wants us to go… and we go… that amazing things can and will happen!" Houston responded.
"Lucille and I are so excited to join the fight WITH all of these amazing churches and ministries to do whatever we can to bring light in a pretty dark and broken city. There is ZERO intention to build on people from other churches and I'll try to ensure if people come, that it's with the blessing of their church."
Houston added that while he is aware of how "God has graced Hillsong Church," he was "not ashamed of that or going to deny God's plan for me because of that."
In addition to apprehension about a Hillsong LA church plant, there were supporters of the ministry who responded to the initial news from Senior Pastor Brian Houston with excitement, although an actual launch could potentially be years away.
"God is good and His timing is perfect!" Pastor Houston shared in the original blog post explaining the expansion of his ministry to Hollywood. "Los Angeles is a city of millions of people — people chasing broken dreams, people desperate for hope in a higher cause, people longing for meaningful relationships with one another. Hillsong Church is about all those things. It is about 'welcoming home' the lost, the broken, the hurting, and the lonely. It's about connecting families; building purpose and value into everyONE and it is about seeing the Good News of Jesus Christ proclaimed everywhere — including the bright lights of big cities like LA."
"Wow! This is so amazing!!! I just moved from Seattle to Costa Mesa, Calif., for college and have been looking for an amazing church to become a part of!" wrote one responder. "I've been raised listening to Hillsong worship music and Pastor Brian Houston. When Hillsong opened a church plant in NYC, I seriously considered moving there for college just to become a part of it! I'm beyond excited!! I can't wait to become a part of Hillsong L.A. and see how God will use this church to impact the city of L.A.!!!"
Hillsong, known for its Hillsong United worship band whose iconic songs remain a staple in many Christian churches, has locations in London, Stockholm, South Africa, Barcelona and in other countries around the world. The Pentecostal megchurch also has six campuses and a dozen extension services across Australia.
Hillsong LA, apparently set to become the megachurch's 11th non-Australian congregation, would join several other well-known churches already in Southern California, such as Pastor Greg Laurie's Harvest Orange County, Pastor Chuck Smith's Calvary Chapel Costa Mesa, and Pastor Rick Warren's Saddleback Church in Lake Forest. Despite not yet having a physical location, the soon-to-be congregation has already attracted more than 7,000 followers and supporters across its social networks.
Hillsong Church was founded by Brian and Bobbie Houston in 1983 as Sunday night outreach meetings that initially attracted a few dozen people. Now, the Sydney megachurch, affiliated with Australian Christian Churches (the Assemblies of God in Australia) is the country's largest and hosts over 30,000 worshippers every weekend.