Will 'Proud Presbyterian' Donald Trump Go to Church in DC?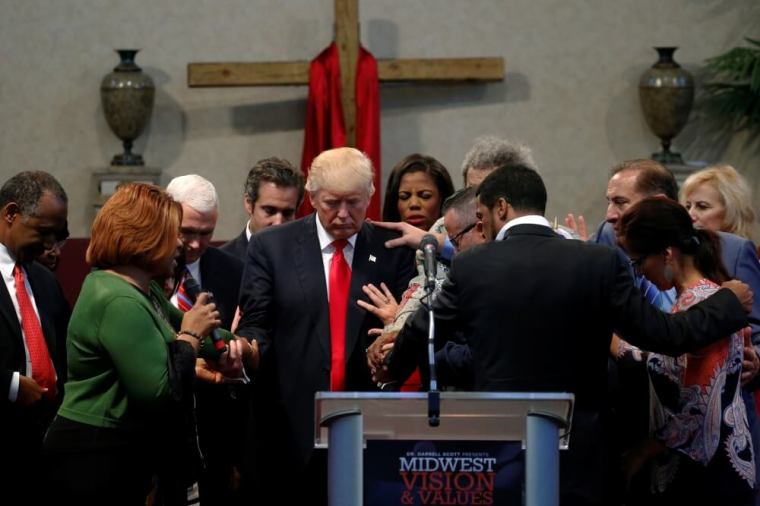 Last summer, President-elect Donald Trump revealed on the campaign trail that he was a proud Presbyterian and would "be the greatest representative of the Christians that they've had in a long time" should he make it to the White House.
"First of all I'm Protestant. I'm Presbyterian. I'm proud of it. I'm very proud of it," Trump told CBN's David Brody. "Believe me, if I run and I win, I will be the greatest representative of the Christians that they've had in a long time."
Now that he has won, it remains unclear if he intends to make a public show of his Christian commitment by attending church regularly as other presidents who have touted their faith before him have done.
A number of local Presbyterian pastors have said that their doors will be open to the New York City billionaire in preparation for his relocation, if he so desires.
"I think Mr. Trump would be welcome at any Presbyterian Church USA in the city. I know he, like everyone is, would be welcome at ours. He doesn't seem like the type of guy that finds the Gospel challenging and meaningful or likes to rub elbows with a diverse group, not all [of whom] are materially successful. But God works in mysterious ways," Fifteenth Street Presbyterian's the Rev. Robert Bell asserted in an interview with The Washington Post.
Capitol Hill Presbyterian's Rev. Scott Wilson also said that his congregation would welcome the controversial billionaire to his flock.
"Our doors are open to everyone to worship with us and listen to the words of Jesus on love and compassion. Capitol Hill Presbyterian Church is a welcoming and inclusive church, and our doors are always open to anyone who wishes to join us in our community exploring faith, joyfully sustained by the love of God, caring about each other, and the needs of a broken world," he said.
Throughout his presidency, Democrat Jimmy Carter attended and taught Sunday School classes at the First Baptist Church of DC, according to Time magazine. Carter continues to teach Sunday School at Maranatha Baptist Church in Plains, Georgia. 
Former President Bill Clinton and his family became active members of the Foundry United Methodist Church on 16th Street NW during the eight years of his presidency. And former President George W. Bush and his wife, Laura, first attended the "predominantly African-American Lincoln Park United Methodist Church on Capitol Hill," Time reports. But after the terror attacks on September 11, 2001, the first family "largely worshiped with military personnel and their families at Camp David, and occasionally at his former church in Crawford, Texas."
President Obama and his family have attended a few services at  St. John's Episcopal Church located across the street from the White House, but like the Bush family, attend services when they are at Camp David in Maryland, and stay home on Sundays when they are in Washington, Time magazine reported back in 2011. 
The late President Ronald Reagan also chose the convenience of St. John's Episcopal Church, according to the Post.
While some of Trump's prominent evangelical Christian supporters have vouched for his faith in God, they also pointed to his approach as a private believer despite his reputation for bombastic behavior.
"I can tell you with confidence that I have heard Mr. Trump verbally acknowledge his faith in Jesus Christ for the forgiveness of his sins through prayer, and I absolutely believe he is a Christian who is growing like the rest of us. I know that from many personal conversations," Pastor Paula White of New Destiny Christian Center in Apopka, Florida, told The Christian Post in an earlier interview.
"The Trump I know is extremely giving, charitable and doesn't seek the credit for the numerous acts of kindness he does. I wish everyone could know the Trump whose children praise him and see their personal interaction as a family.
"I wish everyone could know the Trump who prays and asks for prayer or the Trump who came from a strong spiritual heritage or the Trump who I once watched go far out of his way to an entry level worker who was raking a sand trap on one of his properties just to thank him, acknowledge his work and to shake his hand. He's a good man, and there are far more stories than I have time to tell," White added.