With 20 People Being Murdered Every Day, 'Satan Himself Lives in San Pedro,' Says Mortician in World's Most Murderous City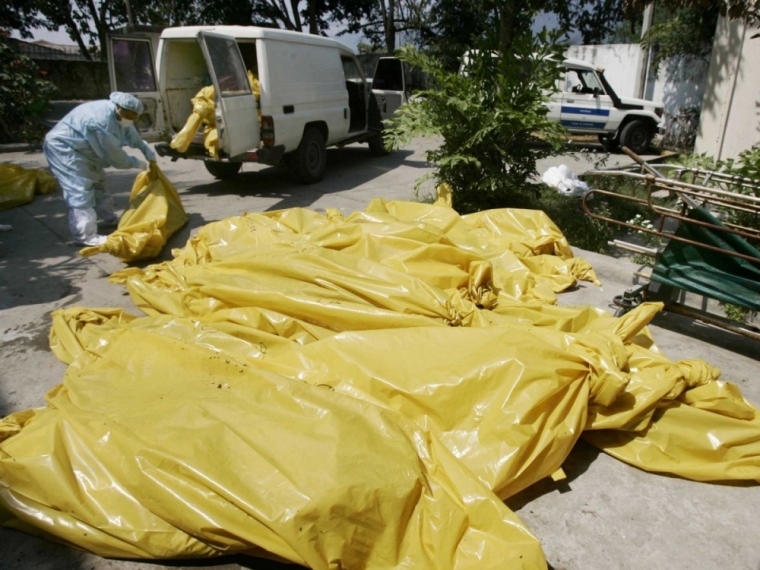 In the busiest morgue in the world's most murderous city in San Pedro, Honduras, where an average of 20 people are murdered daily, conditions have become so grim one mortician has concluded it is the devil's lair and those left to mourn are now questioning their faith in God.
"Satan himself lives here in San Pedro," the nervous mortician, who asked to be identified only as Lucas, said in a report in The Guardian. "People here kill people like they're nothing more than chickens."
The Violence Observatory at the National Autonomous University of Honduras (NAUH) reported that in 2012, an average of 20 people were murdered every day in Honduras, which has a population of 8 million people. That average translated to a murder rate of 85.5 murders per 100,000 residents.
In San Pedro, a city with less than 900,000 people, the murder rate is 173 per 100,000, according to The Guardian, and it is reportedly the highest murder rate in the world outside a war zone.
Comparing Honduras to New York City, which has a slightly higher population at 8.3 million, last year there were only 3.8 homicides per 100,000 people, according to Gothamist. The comparison between New York and San Pedro is even starker.
Lucas, who told The Guardian that he has been preparing corpses for burial since he was 15, recalled when every corpse he prepared in the early years of his career used to come from people who had died of natural causes.
"Today that's rare," he said. "We see people with six to 10 bullet wounds, dismembered, decapitated," he explained.
And the victims are everyday people: mechanics, students, farmers, journalists, bus drivers and business people.
In a report posted on YouTube this summer, 13-year-old Wilmer Solis dies after being shot in the face outside the gate of his home in San Pedro.
His aunt, Racquel Lucia, had hoped desperately that God would save him.
"He arrived at the house. He said 'aunt I'm going to the grocery store for a coffee, and I said ok. He went to the front gate and they shot him. We just heard this 'bang'. 'Oh my God' I said. 'The boy, he's only just left,'" said Lucia in describing what had happened as she waited earlier to see if doctors would be able to save her teenage nephew.
"It's as if we lived in a slaughterhouse," she explained as she described the number of innocent youth killed in her neighborhood due to gang activity.
"It's terrible," she said. "But let's see what God says… Maybe my little boy won't die."
Moments later, however, Lucia and her family were mourning Wilmer's death outside the hospital.
When the boy's body is later taken to his primary school, his teacher, Mr. Garcia, expressed how his death was making him struggle with his faith in God.
"This makes me question my faith," said Mr. Garcia. "In this moment, I'm asking God, 'what happened? Where were you?'"
In April, a top money laundering prosecutor was shot dead and in May a leading criminal investigator was killed. "There seems to be no one who is off limits," explained Steven Dudley, co-director of Insight Crime, a think tank dedicated to security and organized crime in Latin America, to The Guardian.
"Honduras is caught in a vortex of crime – drug trafficking, gang wars, political upheaval and fierce land disputes matched by equal doses of impunity and corruption," the report noted.
The U.S. State Department says 80 percent of the cocaine that comes to the U.S. passes through Honduras. Gangs, filled with criminals deported from jails in the United States, have also been battling to control local drug markets and extortion rackets. And with local police facing serious corruption allegations, people feel like they have no recourse, which exacerbates the murder problem.
"When people have no recourse, the answer becomes, 'Can I get a bigger gun?'" says Dudley.
While these bigger guns have been keeping him busy at the morgue in San Pedro, Lucas says he is getting ready to try his luck in another country. Hundreds of thousands of other Hondurans have fled the country to other places like Mexico and the U.S., and Lucas feels confident his skills will be needed anywhere he goes.
"There are dead people everywhere, right?" he asked.