World Evangelical Alliance, Christian Council of Korea Hold Joint Thanksgiving Service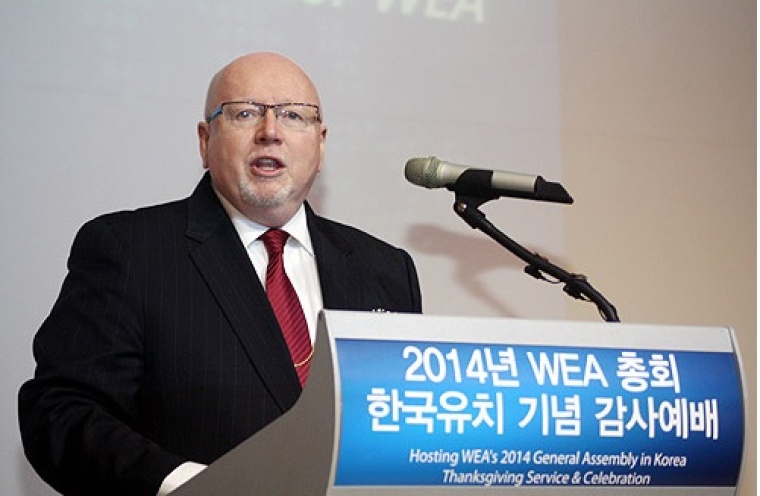 Seven members of the World Evangelical Alliance (WEA), the largest global evangelical body, including the organization's CEO, the Rev. Dr. Geoff Tunnicliffe, held a joint Thanksgiving service with the Christian Council of Korea (CCK) in Seoul, Monday.
The theme of this special sermon concerned the forthcoming 2014 WEA General Assembly, which is to take place at the Asem Hall Coex Convention Center in Seoul starting on Oct. 27, 2014.
"Three years from now, thousands of WEA leaders from around the world will gather to receive a fresh vision on how as followers of Christ, through the empowerment of the Holy Spirit we can see the world impacted through God's transforming power," Tunnicliffe said Monday. "As we pray and work together in preparation for this General Assembly, we are trusting that it will be the most historic event drawing thousands of leaders from almost every nation on earth."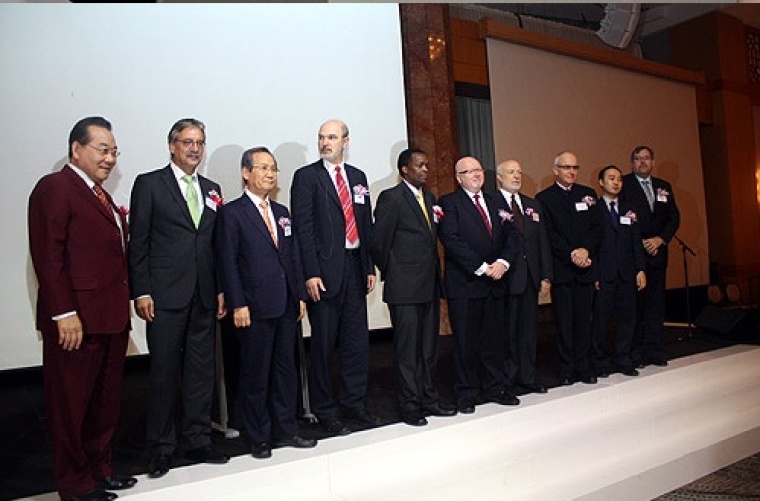 The WEA also declared it is planning to send a group of its members to Korea in January 2012, to work alongside Korean counterparts in preparation for the event.
"We are deeply grateful for the commitment of Korean Christian leaders, specifically for those of the Christian Council of Korea to serve the Global Church in hosting this significant event," Tunnicliffe added.
Among the participants of the Thanksgiving service were CCK's co-president, the Rev. Jae Cheol Hong and the Represent President, the Rev. Ja Yeon Kiel, as well as Bishop Sun Do Kim (former president of the World Methodist Council), who provided the sermon.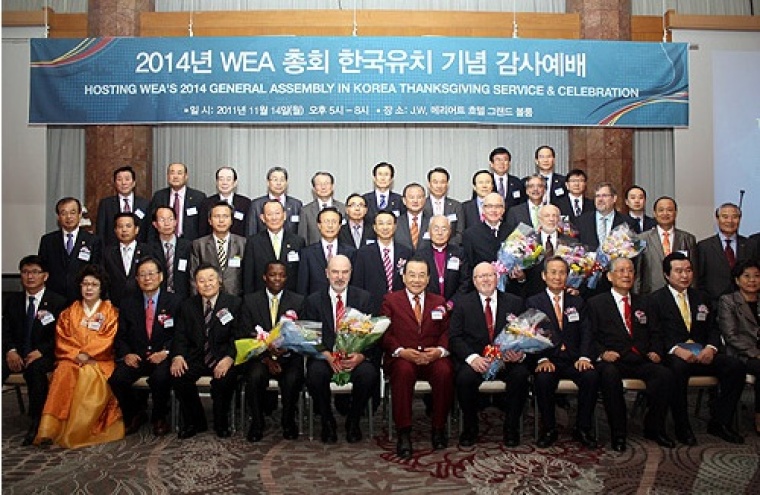 WEA is the largest global evangelical body with a network of churches in 129 nations and an alliance of 100 international organizations representing over 600 million Christians worldwide.
CCK is the largest alliance of churches in South Korea, boasting 69 denominations and 20 Christian organizations in its body, which together represent over 12 million Christians in the world's second largest missionary-sending country.
Previously, the two organizations met in New York City in September.