World Leaders Urge Trump and Israel to Advance Peace in the Middle East
The world's most powerful leaders called on Israel and the incoming Trump administration to work towards a two-state solution to end the Israeli-Palestinian conflict.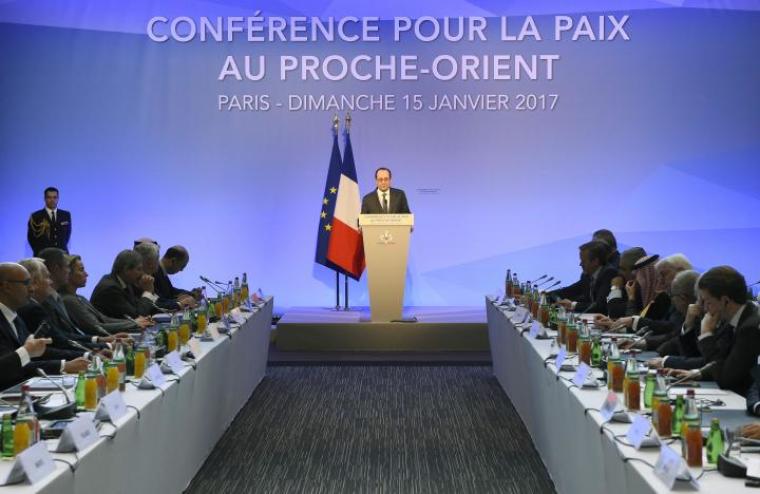 At the Middle East Peace Conference held in Paris on Sunday, about 70 world diplomats sent a message to Israel and the imminent Trump administration warning them to accept a diplomatic solution that will eradicate Arab-Isreali tensions in the Middle East.
The world's major powers -- except for Britain who attended the conference only as an observer -- urged President-elect Donald J. Trump and Israeli Prime Minister Benjamin Netanyahu to "officially restate their commitment to the two-state solution" which includes an independent Palestinian state.
"The two-state solution, which the international community has agreed on for many years, appears threatened," President François Hollande of France said. "It is physically threatened on the ground by the acceleration of settlements, it is politically threatened by the progressive weakening of the peace camp, it is morally threatened by the distrust that has accumulated between the parties, and that has certainly been exploited by extremists."
A recent resolution passed by the United Nations Security Council forbade Israel from building settlements in the majorly Palestinian sections of West Bank and East Jerusalem. The move, which was backed by the Obama administration, was severely criticized by Donald Trump. Benjamin Netanyahu accused the UN of inaction in Syria while it wasted time "ganging up on the one true democracy in the Middle East."
Israel had announced, with the support of Trump, that they would continue construction of housing settlements in what they consider to be their country's land.
The Middle East peace conference in Paris -- which Israel boycotted -- was not intended for detailed peace talks but rather to reinvigorate an agreement and lay out the economic incentives available to either side if they re-engaged in talks.
"The talks process had come to a grinding halt. There is no peace possible if we do not reaffirm the two-state solution. There is no other option," said Jean-Marc Ayrault, the French foreign minister.
While the Trump administration was not represented at the conference, current American Secretary of State John Kerry was present. Kerry, who is critical of Trump's proposed plan to move the U.S. Embassy from Tel Aviv to Jerusalem, endorsed the concept of a two-state solution to end the long standing conflict between Israelis and Palestinians, reports The Guardian.
Meanwhile, Israeli PM Netanyahu disparaged the conference as a "rigged" attempt to force Israel to accept conditions against its national interests. He said that he will only hold direct bilateral talks with the Palestinian leader, Mahmoud Abbas. Donald Trump is yet to issue a statement regarding these recent developments.