Zombie Theme Park in Detroit Plans Apocalypse to Revitalize City
Zombie Theme Park in Detroit Plans Apocalypse to Revitalize City
A zombie theme park in Detroit could help revitalize the city's growth by attracting tourists and thrill-seekers from all over. "Z World" would be an expansive 200-acre experience recreating a zombie apocalypse.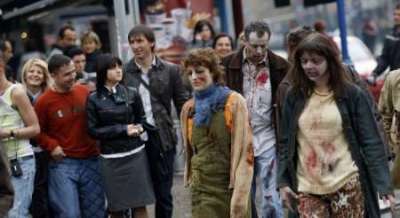 The zombie theme park of Detroit is the brainchild of entrepreneur Mark Siwak, who believes that "radical thinking" and "creativity" could help bring much-needed jobs and tourists to the population-starved city. The Motor City's residents shrunk to 714,000, down significantly from over a million just 20 years prior.
"The city of Detroit is considering literally abandoning sections of the city. While the economic and social benefits of this action can be debated. We think the situation demands more creativity," wrote Siwak on the project's IndieGogo.com fundraising page. "The Z World Detroit initiative is a radical rethinking of urban development and Detroit's well-documented blight and de-population."
Siwak's plan is to make the theme park a survival experience, with those admitted staying overnight in hopes to avoid the ever-growing horde of zombies, who would be played by professional actors. Players would have to find food and supplies, and make a plan to establish a base of operations.
If players are caught, though, the game wouldn't end there: they would be turned into zombies, and then get to chase their friends. Siwak's vision is more than just a game, too- the $140,000 he seeks to fundraise is for a comprehensive study of the area, to develop sit designs, and to refine the game.
There are detractors, however.
"Yea, there are way to many risk factors involved with this to ever make it something that would be approved by Detroit's local government," wrote Kyle Thompson on Buzzfeed's blog.
"I don't see this ever coming to fruition. 200 acres? Getting the land and getting this venture built and insured will take far longer than the lifespan of the current cultural infatuation with zombies. Good luck, Mr. Siwak," agreed Glen Edwin.
Still, the Z World Detroit movement is already gaining traction among supporters. Currently $4,121 has been raised.
Zombie Apocalypse Theme Park