Did white evangelical support for Trump drop in the 2020 election?
Did white evangelical support for Trump drop in the 2020 election?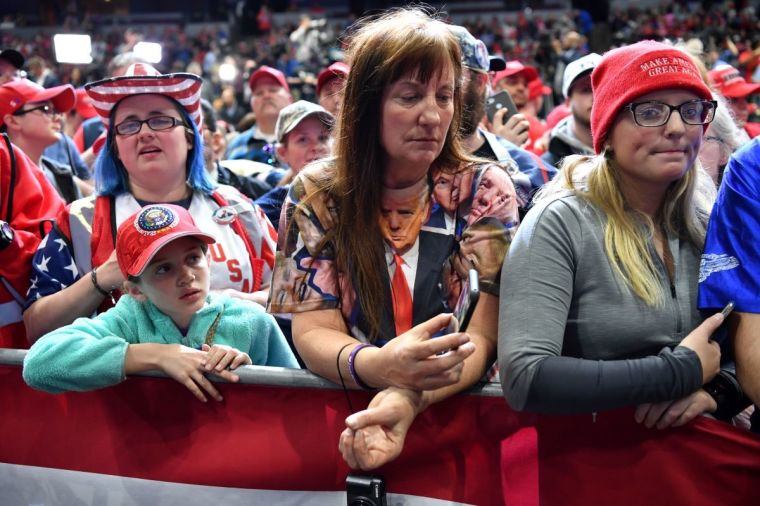 Eyes on Michigan
Head said that the Public Opinion Strategies survey found that 85% of white evangelicals in Georgia, 86% in North Carolina and 88% in Florida voted for Trump while 81% voted for him nationally. But in Michigan, a state Trump lost by less than 200,000 votes in 2020 but won in 2016 by about 10,000, only 66% of white evangelicals voted for Trump. 
"There was slight atrophy in Michigan," the conservative activist admitted. "The presidential election is not a national election. It is a state-by-state election."
Michigan is one of six states that Biden was able to flip from red to blue. In Michigan, Biden exceeded Clinton's vote total by over 500,000.
Although Head sees Catholic voters as more of a factor in Michigan, Vote Common Good is claiming victory among evangelicals in the Wolverine State, especially in areas of West Michigan such as Holland and Grand Rapids. 
Kent County in Western Michigan, where the Trump campaign spent much time and energy, including where Trump held his last campaign rally on the night before the Nov. 3 election, flipped from red to blue. Kent and neighboring Ottawa County are areas where Vote Common Good ran a billboard ad campaign. 
"In Kent County, evangelicals comprise huge numbers. That city, Grand Rapids, I refer to it as the Silicon Valley of evangelicalism where you have multiple Christian colleges, the home of Betsy DeVos, the Christian publishers like Zondervan," Pagitt stated. 
"There is a whole stream of evangelicalism that comes right out of Grand Rapids. So much of the culture there is Dutch, evangelical, Reformed tradition. It is totally that subset. That is why Trump went there multiple times and so did Pence. They contended very aggressively for those votes in Michigan because they knew that if they didn't win Kent County and Ottawa County and the surrounding counties that they were in serious trouble. The polling coming out of there was 70% evangelical support of Trump, so it was a double-digit loss."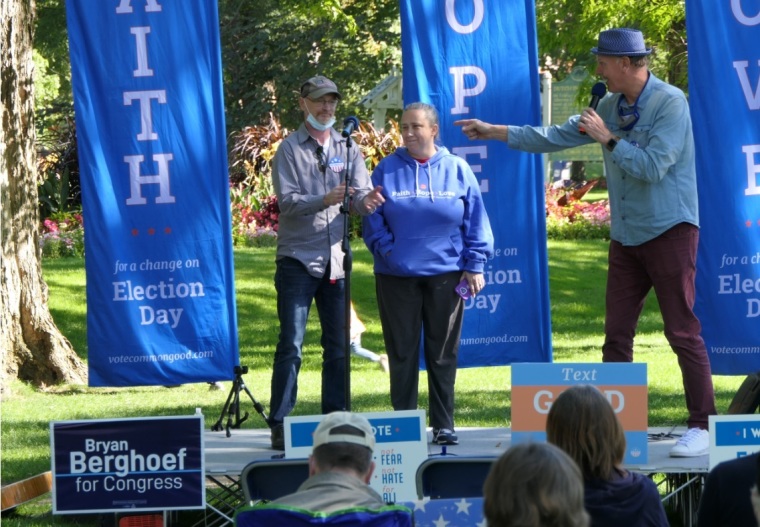 According to Vote Common Good, exit polling indicates that white evangelical support for Trump in Michigan decreased from 81% to 70% in 2020 while evangelical support for Biden increased from 14% to 29%. 
But Faith & Freedom Coalition's Head warns that the bigger flip in Michigan was actually the Catholic vote by 5 percentage points.
Head stated that for many years, Catholic voters in Pennsylvania, Michigan and Ohio have harkened back to "an older Biden who was not quite as radical on abortion as he is today." 
"[Biden] has identified as a Catholic. That kind of long-term history or memory for a lot of pro-life voters, that was enough just to pull back the 3% to 5% of Catholics in the Rust Belt," Head said. "The bottom line is your margin of error right. Michigan from 2016 until Michigan today, the Catholic vote flipping was probably the margin."
It wasn't just western Michigan, Biden also outperformed Clinton in the Detroit metropolitan area.
'I would have voted for Trump again'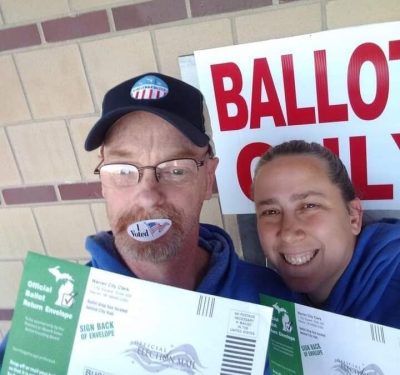 Hawthorne, who grew up in inner-city Detroit and has suffered drug and alcohol addictions at different points of his life, said he was looking for purpose when he found Christ just months before the 2016 election. 
Shepherded as a young Christian by a fundamentalist Baptist church led by a pro-Trump pastor, Hawthorne said he was encouraged to vote for Trump because of the abortion issue and the types of judges Trump vowed to nominate for the Supreme Court. He recalled the pastor telling him: "They are on our side."
Hawthorne, who has always seen himself as more of a political moderate as he has voted over the years for both Presidents Bushes, [Bill] Clinton and Obama, said he voted for Trump reluctantly. He then tuned out of politics for the next three years and focused on his spirituality. But after a conversation at work with a colleague who questioned why Christians voted for Trump, Hawthorne said he began to pay more attention to the news. 
"As I started paying attention to Donald Trump, I started to see some of the things he was saying. I started looking things up and went, 'Wow, what is going on here?'" he told CP. "I understand how the media works — right and left. I understand that. I judged him by watching him speak and things that were coming out of his mouth. I was just taken aback. When I read Proverbs 6 in the Bible, I knew I couldn't support him."
Proverbs 6 states: "There are six things the Lord hates, seven that are detestable to him: haughty eyes, a lying tongue, hands that shed innocent blood, a heart that devises wicked schemes, feet that are quick to rush into evil, a false witness who pours out lies and a person who stirs up conflict in the community."
Hawthorn said that passage made him realize Trump's character "didn't match the values" he had learned over the past three years. 
"They were the exact opposite," he said. "I understand he had done a lot of things and there were some [good] policies that they had passed. But my heart felt like we were being bought to get what Christians want."
One thing that appealed to Hawthorne about Biden was his vow to make his cabinet more diverse. Hawthorne believes Biden will attempt to reach out to Republicans as he has shown in the past throughout his over four-decade political career. 
Hawthorne said that there were some Trump policies that he liked, including what the president's policies did for the economy. But he couldn't get past Trump's "disturbing" decisions. 
"I would have voted for Trump again had he just been a decent human being and acted more adult," he added. "I would have." 
Pagitt praised the faith outreach efforts of the Biden campaign, which made concerted efforts to appeal to voters of faith who were up in the air for who they would vote for. 
"I would say it was beyond lacking [in the Clinton campaign]. It was nearly hostile," the activist pastor recalled of the 2016 election. "There was a negative amount of interest in having organized faith voters. That campaign had a number of issues when it comes to not taking faith voters seriously."
Streams of evangelicalism
Pagitt believes that the evangelicals that were most likely to move off Trump in 2020 were those in a more moderate stream of evangelicalism embodied by organizations like the National Association of Evangelicals, Wheaton College and the Grand Rapids-based Christian book publisher Zondervan. 
He stated that the other two streams that make up the "river" of evangelicalism are charismatic Pentecostals and fundamentalist Baptists.
"The ones that we think are the most movable are ones in that first stream — that Wheaton College, Christianity Today [stream of evangelicals]," Pagitt stated.
"I bet if anyone got inside the numbers and saw who did vote for Trump in 2016 and who moved in 2020, it's going to be more from that group than the other two streams. Who stayed more consistent with Trump all the way through? It would probably be that stream of charismatic and Pentecostals. In fact, Trump's pickup with the Hispanic vote corresponds with charismatic and Pentecostal Christians. When they did their Evangelicals for Trump work, it was predominantly inside the charismatic tradition."
Pagitt believes while there may have been some Southern and fundamentalist Baptists that moved toward Biden in 2020, they didn't do so as much as those in the more moderate stream of evangelicals. 
"I think there is a schism inside evangelicalism as a whole that is starting to bear out some electoral fruit," Pagitt stated. 
A post-election survey conducted by Cultural Research Center at Arizona Christian University led by longtime evangelical pollster George Barna found that 99% of Spiritually Active Governance Engaged Conservative Christians (SAGE Cons) turned out to vote. That figure dwarfed the estimated national turnout level of 66%.
Although SAGE Cons represent just 9% of the adult population, their extreme turnout levels enabled them to constitute over 14% of the voting population, which Trump garnered 97% of, or a net of 21 million voters, according to the data. 
Perkins, a social conservative activist and Baptist pastor, called SAGE Cons the "core" of the evangelical vote.
"Because the term 'evangelical' has really become elastic, we have to have a good definition to work with," he said. "Roughly 30% or less of the president's votes — almost a third of the vote for Donald Trump — came from the SAGE Cons."
Faith & Freedom Coalition Chairman Ralph Reed, one of the leading conservative evangelical activists in the U.S., pushed back against the notion that Biden made serious inroads among evangelicals. 
The activist argued in November that there are key states that show "astonishing margins for Republicans among evangelical voters." Reed contended that Biden's gains with Catholics "made a difference in the upper Midwest." 
"In North Carolina, evangelicals totaled 34 percent of all voters, and Trump won 85 percent of their votes," he wrote. "In Texas, Trump won 86 percent of the evangelical vote; in Ohio, Democratic plans to flip the state were undone by Trump winning 82 percent of evangelical votes to Biden's 17 percent."
Perkins, meanwhile, pushed back against critics on the left who argue that the political reputation of evangelical conservatives has been tarnished because of their association with the president. 
"They have been trying to write the obituary for conservative evangelical Christians for decades, going back to the Moral Majority," Perkins said. "You could argue that Jesus tarnished the reputation of believers because Jesus said, 'Look, they hated me and they will hate you.' I am not happy with the outcome of this election but I am not surprised. We have been told that we are going to have challenges in this world and we are facing them now. We can face them with confidence."