Maintain a Healthy Smile With This Powerful Electric Toothbrush, Now Under $40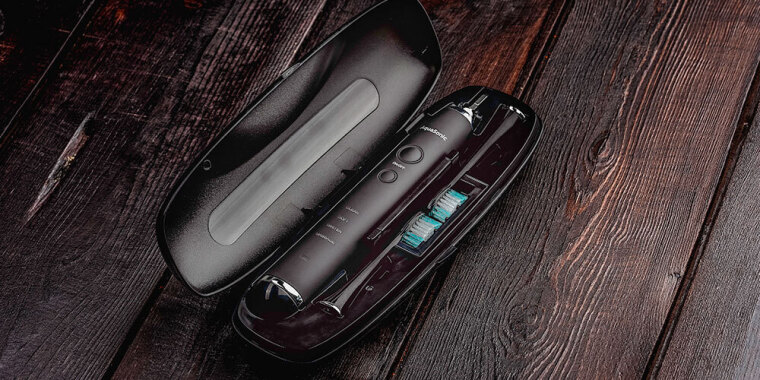 Each of us is blessed with just one set of adult teeth. If you want to keep them healthy, you might like to upgrade from your $2 plastic brush.
With a powerful 40,000 VPM motor, the AquaSonic Black Series Toothbrush removes 10 times more plaque than a regular brush. It is normally priced at $139.99, but you can get the AquaSonic now for just $34 with a travel case and eight replacement heads when you apply promo code "BFSAVE15" at checkout. 
In order to maintain a perfect white smile, you need to keep your whole mouth clean. While a regular brush is better than nothing, you may not get total coverage.
In contrast, the AquaSonic Black Series fully cleanses your mouth. The head vibrates rapidly to remove stains and blast away plaque, ensuring your smile stays fresh and clean all day long.
There are four cleaning modes to choose from, including Soft mode for sensitive teeth and Whiten mode for full cleaning power. 
Massage mode offers something different; the brush pulses to stimulate your gums to encourage self-healing. Some users even see an improvement in their gum health in as soon as one week.
Previously on sale for $49.99, the Black Series brush has now dropped to $34 with promo code "BFSAVE15" in a special reader offer. Order today to get the brush along with a travel case and those replacement heads.
This section is powered by CP Shop. This is an online shopping guide with some of our favorite products. Some products were selected by the CP Shop team on behalf of Christian Post; and some were selected by StackCommerce, which created those articles. When you make a purchase, Christian Post or StackCommerce may make some revenue.