Angus T Jones' Two and a Half Men 'Filth' Video Mocked by The Office's Rainn Wilson (VIDEOS)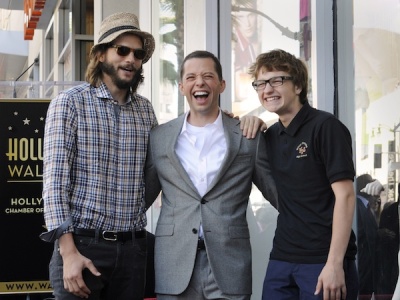 Rainn Wilson, of "The Office," has spoofed Angus T. Jones' now widely publicized video that called TV show Two and a Half Men "filth." The spoof has immediately created waves among his fans as the comedian mocks the original video saying that he wishes viewers would not watch "The Office," but adding in details of how to watch.
The Office actor posted up a new video on his Facebook page on Tuesday mocking the video posted of Angus T. Jones recently, which spoke out about the "filthy" content on Two and a Half Men, and its affect on viewers.
Rainn's tongue in cheek copy featured himself and his Office co-star, Craig Robinson.
The 46 year old Wilson says in the video, "Dwight from 'The Office' is nothing, OK? 'The Office' is nothing, all right? If you watch 'The Office,' please don't watch 'The Office.' I'm on 'The Office.' It's filth. And that filth will rot your brain."
However, Wilson also goes a step further, by apparently promoting the new time slot of the new series of The Office. Conveniently he added, "Take it from me, who's on 'The Office,' please don't watch it, Thursday nights at 9 on NBC. Do not watch this final season or that filth will rot your brain. Seriously."
Recently the original video by Angus T. Jones, who stars as Jake Harper - the underachieving son of Alan Harper, played by Jon Cryer.
"Please stop watching it," Jones said of the show in a video posted by the Forerunner Chronicles in Seale, Ala., Monday. "Please stop filling your head with filth."
He also said, "People say it's just entertainment. Do some research on the effects of television and your brain, and I promise you you'll have a decision to make when it comes to television, especially with what you watch."
In addition, on his 19th birthday last month, Jones spoke on a radio broadcast called "The Voice of Prophecy," which was recorded for the Seventh-day Adventist Church.
In that interview, Jones admitted that he was a virgin that never drank alcohol and explained further why he was uncomfortable with appearing on "Two and a Half Men."
He said, "It's very weird that I'm on a television show, especially now that I am trying to walk with God. My television show has nothing to do with God and doesn't want anything to do with God."
Here is the video from The Office's Rainn Wilson:
Rainn Wilson - The Office is Filth - Angus T. Jones Parody
Here is the video of Angus T. Jones on Two and a Half Men, Part 1:
Here is the video of Angus T. Jones on Two and a Half Men, Part 2: