Anne Hathaway News: Actress Finds Bliss in Motherhood
Although Anne Hathaways husband and Adam Shulman wed back in 2012, it was only recently when they discovered the joys that come with parenthood after the actress gave birth to their first child last March 24.
According to a source of E! News, the couple named the baby boy Jonathan, and both are very happy with their newly discovered roles as parents.
"He is such a sweet and happy baby… he looks like a mixture between Anne and Adam," said the source, referring to Hathaway and Shulman's love-child.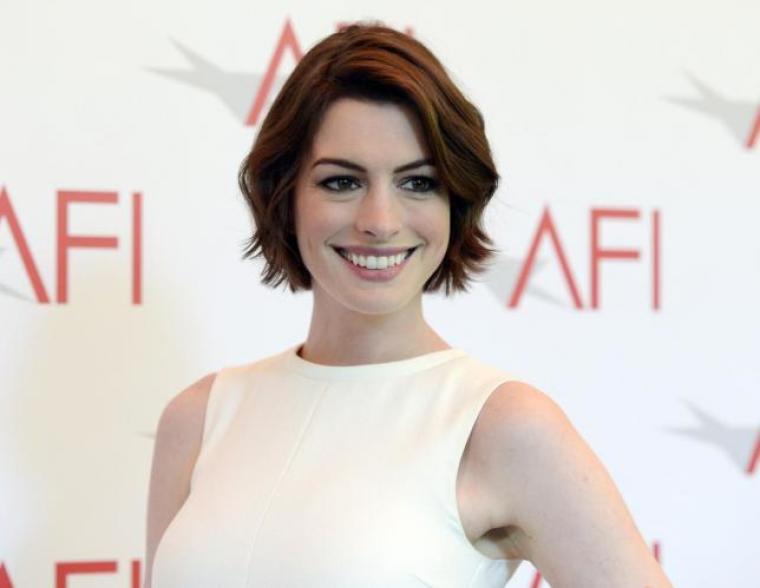 The source further revealed that Hathaway and Shulman returned to L.A., where they have a home, before the Oscar award-winning actress gave birth.
"They have many friends and family coming in and out of their home in L.A. the past two weeks… Anne and Adam's parents have been very helpful with the baby. Anne plans on breastfeeding and wants to experience and feel everything about being a new mother," the unnamed source shared.
The incognito source described Shulman as a great and supportive husband to Hathaway, revealing that the couple take turns in fulfilling their parental duties to their newborn, especially at night.
Hathaway is also planning to return to her yoga classes in just a matter of weeks, the source said, but she is taking things easy. While it is true that the couple has plans of flying to New York, they are staying in their Los Angeles home for now until baby Jonathan is already eligible to travel.
Prior to falling in love with her now husband, Hathaway carried a romance with an Italian real estate investor. However, their relationship ended when her then boyfriend was arrested and eventually deported to Italy for a crime of cheating his investors by claiming he had connections in the Vatican, a claim that worked in his favor as he was able to purchase a church property at a discounted rate. He also admitted that he owed his investors more than $3.6 million.
Having been bashed for no big reason and experienced a fraud in her life, Hathaway is sure to raise baby Jonathan in a way that will prevent him from becoming a scam like her ex.
"I've realized that I don't need validation from anybody. At all… I'm not sitting here now worrying, 'What do you think of me?' With all due respect, you seem like a lovely lady, but I don't need you, or anyone else, to like me. And that's so liberating. It's a big reveal, man," she once said in an interview.