WatchOS 2 Bug Problems News: Apple Finally Launches Bug-Delayed OS
Apple finally released its long-awaited WatchOS 2 update Monday after it had initially scheduled the launch for September 16 together with the iOS 9.
The much anticipated WatchOS 2, Apple's operating system update for its first smartwatch, arrived a week late due to a glitch found during its testing process.
Initially intended to be launched together with the Cupertino, California tech company's latest mobile operating system, iOS 9, the WatchOS 2 release was put on hold until Apple fixed the bug it discovered.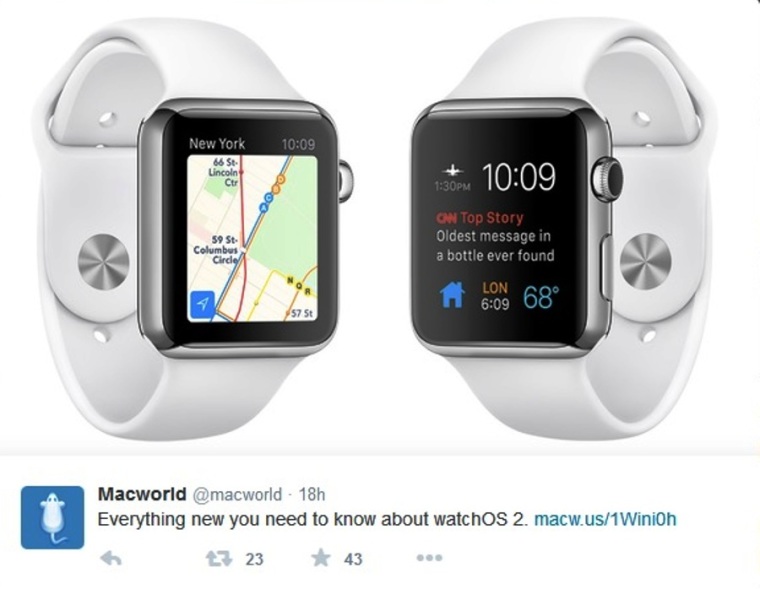 The WatchOS 2 is geared to enhance the Apple Watch's capabilities, allowing it to run third-party applications.
The WatchOS 2 is a 520MB file containing a number of improvements and features, as well as new software, including enabling users to add more than 12 friends and activate Digital Touch to support different colors for drawings.
The WatchOS 2 will also enable people to reply to emails directly from the wearable via smart replies, voice dictation, or emoji. Users can integrate third party fitness apps, with the Apple Watch collating user data under Health, all of which is sharable on Facebook or Twitter.
Users can expect a "smarter" more intuitive Siri; a Maps app with public transport routes and schedules; a WatchKit to give access to speakers, taptic engine, mic, short video playback, and Ditigal Crown; a HomeKit to control smart lights and objects in the home, and Apple Pay.
The WatchOS 2 will also enable users to set their favorite photo as their custom watch face, or select an entire album of photos to stream through the screen, displaying a different image with each flick of the wrist.
As another display option, Apple has also added a timelapse feature which shows users scenes from cities around the world with skylines changing according to the time of the day.
Apple Watch owners can now update their existing operating systems from their My Watch app, accessing the Software update menu under the General category to download the new OS.