'Basketball Wives' Throw Punches During Season 5 Taping; Show Still Violent?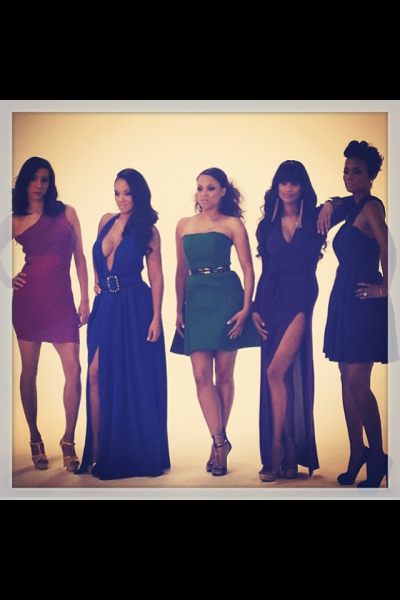 "Basketball Wives" will return to Vh1 in 2013 and at least one new addition will be added to replace axed cast members.
Tasha Marbury, 35, will join veteran "Basketball Wives" Evelyn Lozada, Shaunie O'Neal, Suzie Ketcham and season two addition Tami Roman in the controversial show's upcoming season. Jennifer Williams, Royce Reed and Kesha Nichols were reportedly all axed at the end of season four and while Kenya Bell appears in season five, she, too, was allegedly fired, according to TMZ.com.
Marbury, who is ex-NBA star Stephon Marbury's wife of 12 years, was photographed posing alongside her new cast mates in season five promo shots. Vh1 and Shed Media Producers believe that she is a good addition because she is already friends with the other women.
In 2012 the show came under fire over claims that it promotes violence and bullying. Despite assurances that violence would not be tolerated going forward, two women reportedly came to blows during a recent taping.
Ketcham, who has previously had problems with Lozada and Roman, reportedly tossed meatballs at Bell inside a Los Angeles restaurant. Bell, who once narrowly escaped injury after Lozada tossed a glass bottle at her, responded by lunging at the single mom and the pair began throwing punches at one another.
While producers wisely broke up the fight, the incident has raised questions about the direction in which the show is headed and whether positive change will actually be implemented as was previously promised to viewers.
After receiving widespread backlash and threats of boycott in 2012, the Vh1 network insisted that it supported the idea of a "'no excessive physical confrontations' policy" on the series moving forward [because] "viewers' opinions always matter." However, judging by the meatball throwing incident, it appears that little has changed.
In a recent interview, Lozada, who has been blasted as a bully by viewers, spoke about her dilemma in wanting to change her violent image but also wanting to please her supporters.
"I had people saying 'stay the same. I need to see all that feistiness.' I'm still going to have my little quotes; this is just who Evelyn is," Lozada told Vibe Vixen.
"If somebody is coming at me, I'm going to protect myself. It's not like I'm going to be super perfect because I was on Iyanla and now I'm Mother Mary," she continued, adding "It's a daily thing for me because sometimes you're tested."
WARNING: Video Below Contains Adult Language, Themes, Violence