Beyonce Oprah Interview: Singer Talks Firing Father, Surrogate Claims, Miscarriage in Documentary (VIDEO)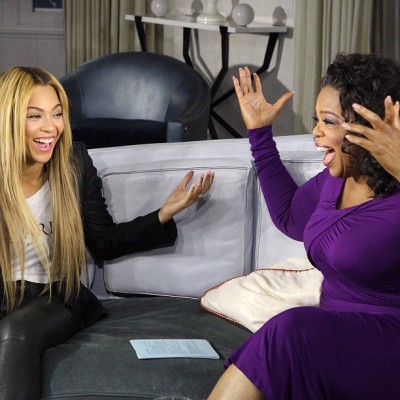 Beyonce recently spoke with Oprah Winfrey during the premiere of her self-produced documentary, with the singer revealing that viewers will finally see a side of her that they have never seen before.
Speaking at the red carpet premiere held in New York City on Tuesday, Beyonce explained her decision to produce and direct "Life Is But A Dream" and how doing so has "healed" her.
"I felt that after 16 years of being a public singer, people didn't know who I was. I will always keep certain things to myself because it's only natural," Beyonce told Oprah minutes before the screening.
"I really grew so much. This movie has really been my therapy. I've healed from so many wounds and I've been able to understand why some of the things I've been through, why I went through, so I feel really proud, and hopefully I can inspire other people," she continued.
As expected the 31-year-old wife and mother of one shares behind-the-scenes footage of the preparation that goes into her high energy performance, but she also touches on suffering a tragic miscarriage, her strained relationship with her father Matthew Knowles, and motherhood.
In January 2012 Beyonce and Jay-Z welcomed their first child Blue Ivy Carter, and at the time, fans were unaware that the Grammy award-winning singer had previously suffered a miscarriage.
"About two years ago, I was pregnant for the first time. And I hear the heartbeat, which was the most beautiful music I ever heard in my life," she says in the documentary, according to People magazine.
"I flew back to New York to get my check up – and no heartbeat. Literally the week before I went to the doctor, everything was fine, but there was no heartbeat," she continued, adding that the miscarriage is the "saddest thing I've ever been through."
At one point during the documentary Beyonce is reportedly heard singing "the saddest song I've ever written in my life," and the lyrics allude to her intense heartbreak.
"I guess love just wasn't enough for us to survive/I swear I swear I swear I tried/You took the life right out of me/...I'm longing for your heartbeat, heartbeat," she wrote.
Jay-Z, 43, also penned lyrics about their tragic loss on his song "Glory feat. B.I.C."
"False alarms and false starts/all made better by the sound of your heart...last time the miscarriage was so tragic," he wrote.
The singer even shares footage taken at New York City's Lennox Hill hospital as she prepares to give birth to Blue Ivy. This could finally put an end to rumors that Beyonce faked her pregnancy and claims she used a surrogate to deliver her baby.
"It's something you have to respect," Beyonce said in response to the skeptics who are responsible for the bizarre rumor.
"There's certain things you just shouldn't play around with and a child, you don't play around with that!" she continued.
In 2010 Beyonce abruptly fired 62-year-old Matthew, who had been her manager for over two decades. Critics speculated whether the termination was a response to news that he had cheated on the singer's mother Tina, 59.
"I think one of the biggest reasons I decided it was time for me to manage myself because at some point you need your support system and you need your family," Beyonce explained.
"When you're trying to have an everyday conversation with your family you have to talk about scheduling and you have to talk about your album and performing and touring. It's just too stressful and it really affects your relationship....I wanted my dad," she continued.
Matthew, who was married to Tina for 29 years, fathered a lovechild with Aleksandra Wright, a woman who is said to be in the same age bracket as Beyonce. Subsequently they got divorced and Beyonce was understandably heartbroken.
"It was hard. I had to sacrifice my relationship with my dad. It was stressful, sad, difficult time, but I had to let go," Beyonce said, adding that "[while] I didn't get my dad back, but I had to let go."